How To Cancel Lemonade's Renters Insurance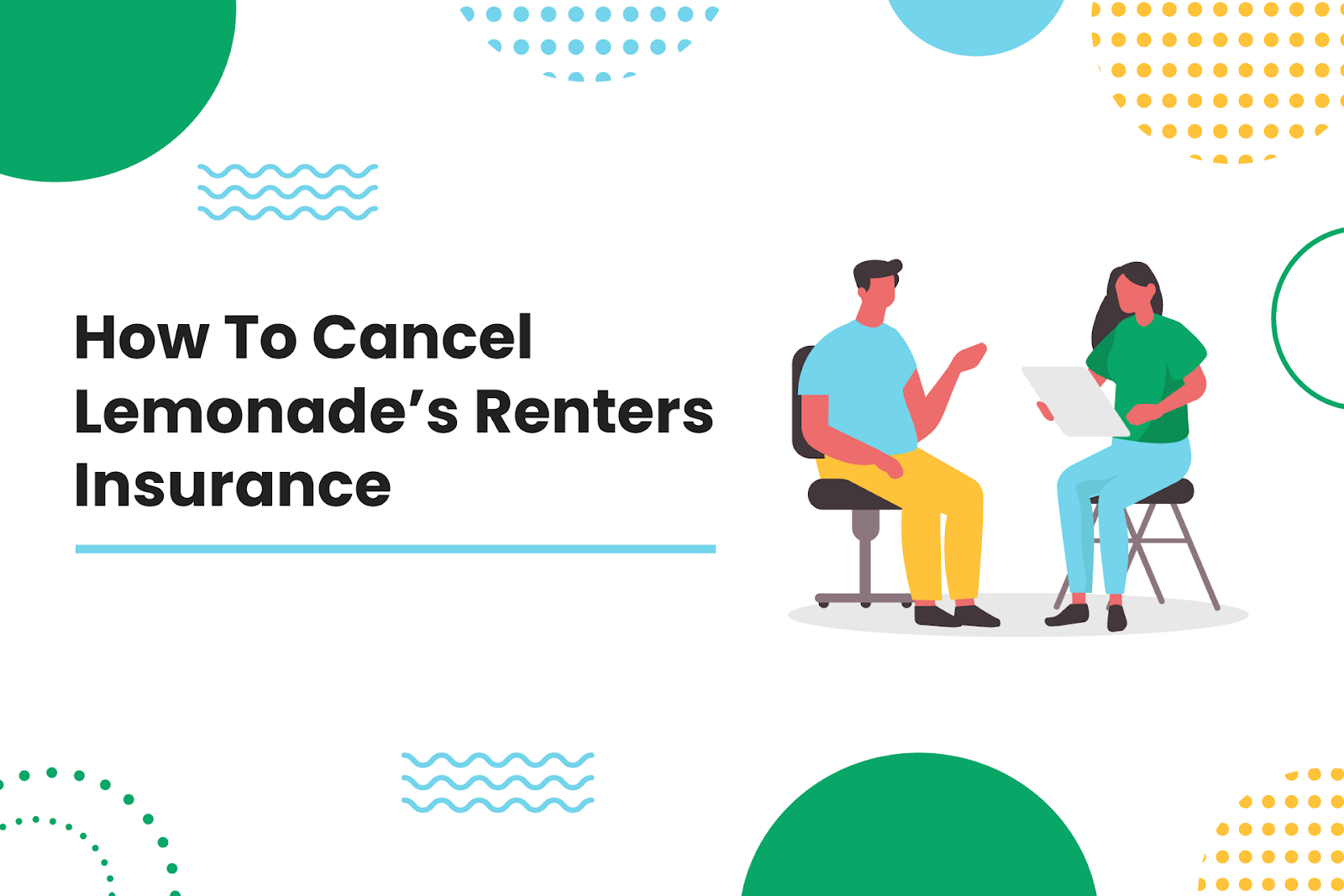 Making changes to your insurance coverage can be a confusing process, but there's no need to stress. If you're thinking about canceling your Lemonade renters insurance policy but aren't sure how to go about we, we're here to guide you through the process.
Whether your needs have changed or you think it's time to explore some new options, the goal of this post is to make canceling your Lemonade's renters insurance as easy and stress-free as possible.
Here's what we'll cover:
Lemonade Cancellation Policy
How To Cancel Lemonade's Renters Insurance Policy
Things To Consider When Canceling Lemonade Insurance
Why Pick Goodcover Over Lemonade?
Final Thoughts: Goodcover's Guide to Cancelling Lemonade's Renters Insurance

Lemonade Cancellation Policy
Lemonade has a straightforward cancellation policy. You can cancel your Lemonade policy from Lemonade's app or website anytime for any reason, even before the end of your term.

When you complete the cancellation process, Lemonade processes your request instantly. Lemonade will calculate and refund any unused premiums, which you can use to pay your new, less expensive Goodcover premium.
How To Cancel Lemonade's Renters Insurance Policy
If you want to get out of your insurance contract with Lemonade, you can go about it in several ways.
1. Cancel via the Lemonade Website
As mentioned above, you can cancel your renters' insurance policy straight from Lemonade's website — www.lemonade.com. To do that:
Log in to your Lemonade account from their website.
Access your account settings page.
On the Policy status option, Select "Cancel Policy."
Once you cancel your policy, Lemonade will send you an email to confirm your action.
2. Cancel via the Lemonade App
Canceling your policy with the Lemonade app is simple. You just need to make changes to the policy using the Live Policy feature.
To cancel your policy:
Install the Lemonade app from Google Play or the Apple App store.
Log into your Lemonade mobile app on your iPhone or Android smartphone.
Select the Settings tab. Then, select My Account.
Under the My Account page, you'll find the policy settings. Here, you can manage and download your policy.
Go to the Policy Status section and select Cancel Policy.
That opens a chat with Maya, Lemonade's chatbot assistant.
Maya will ask you to confirm your cancellation request.
Once you confirm your cancellation request, Maya will process it and send you an email to confirm.
Lemonade will process unused premiums and send them back to the debit/ credit card used to open your account.
3. Cancel via Email
You can also cancel your Lemonade renters insurance plan by emailing Lemonade. Here's how:
Draft an email requesting Lemonade to cancel your renters' policy and send it to help@lemonade.com. Check the sample below for what it may look like.
Remember to include your account information and policy number in the email.
You can also ask Lemonade to provide proof they received your email.
Ask Lemonade to send you an email confirming they canceled your renters insurance policy.
A customer service agent from Lemonade will confirm receipt and process your cancellation request.
4. Cancel via Phone
If you prefer to speak to Lemonade customer support directly, you can call Lemonade's customer desk and cancel your policy. To cancel via phone:
Call 1-844-733-8666
Have your policy number ready because the agent will ask for it.
Ask to speak to an agent. You'll get patched through to one.
Request the customer experience agent to cancel your contract. They may ask you to verify your identity and policy number.
Once you provide all the necessary details, ask the agent to send you a confirmation email.
You can call Lemonade Monday–Friday between 9:00 AM and 5:00 PM ET.
5. Ask Goodcover To Cancel Lemonade's Policy for You

One of the benefits of  Goodcover is that they'll cancel your old policy for you free of charge. All you have to do is send your current Lemonade policy to compare@goodcover.com.
Upon request, we'll give you a competitive insurance quote. But, after you sign up with Goodcover you can also request us to cancel your old policy.
We'll send a formal notice to Lemonade. Once Lemonade receives it, they will process your cancellation request and refund any unused premium. You can use that premium to pay Goodcover – and you'll likely still have cash left over.
Things To Consider When Canceling Lemonade Insurance
Here are some immediate actions you can take before and after canceling your policy with Lemonade.
Get a Goodcover renters insurance policy before you cancel Lemonade. That way, you can avoid an insurance gap after you cancel your old policy.
Inform your landlord and other interested parties you'll be switching to a new renters policy. If you add interested parties to your new Goodcover policy, we'll notify them for you.
Choose a plan that offers enough coverage for your personal property. If you're underinsured, your policy may not pay out enough to cover some expenses you may incur when you file claims. Take advantage of additional coverage and add-ons like water or sewer backup coverage to cover your personal property from other risks.
Reasons To Pick Goodcover
Goodcover Is Member-Driven
Goodcover cares about you as a Member. Instead of keeping your premiums, we refund excess every year through an Annual Member Dividend (after taking a fixed fee and paying out any claims from the pool of members' premiums).
Goodcover's SUPERGOOD Plan Offers Tailored Extra Coverage

Goodcover offers SUPERGOOD coverage, which lets you extend coverage for certain classes of items, such as jewelry, watches, computers, and other electronics. That means you can tailor your policy and increase the coverage limits for categories where you own more expensive items.

With SUPERGOOD coverage, there's zero-deductible, and your items are covered even if you accidentally damage them. That being said, there's a payout limit of $5,000 per single item.
With Lemonade, you have to schedule individual items to receive extra coverage. That means providing proof of ownership, possession, and value before you can receive the extra coverage. Goodcover, on the other hand, lets you extend coverage for entire categories of items. You'll only need to provide extra documentation if you end up needing to make a claim on an item.
Final Thoughts: Goodcover's Guide to Cancelling Lemonade's Renters Insurance
Canceling Lemonade's renters insurance policy is quick and painless. You can use the Lemonade app or website. You may also call or send an email to Lemonade's customer service agents. Once your cancellation is processed, Lemonade refunds any unused premiums to your credit/debit card.
If you don't want to do it, that's okay. Let Goodcover handle it for you. Send us a copy of your old policy, and we'll notify Lemonade so you don't have to.
Get a quote and learn more about our renters insurance plans today.
---
Note: This post is for informational purposes; insurance regulation and coverage specifics vary by location and person. Check your policy for exact coverage information.

For additional questions, reach out to us – we're happy to help.