Goodcover's Guide to Canceling A Renters Insurance Policy: Everything You Need To Know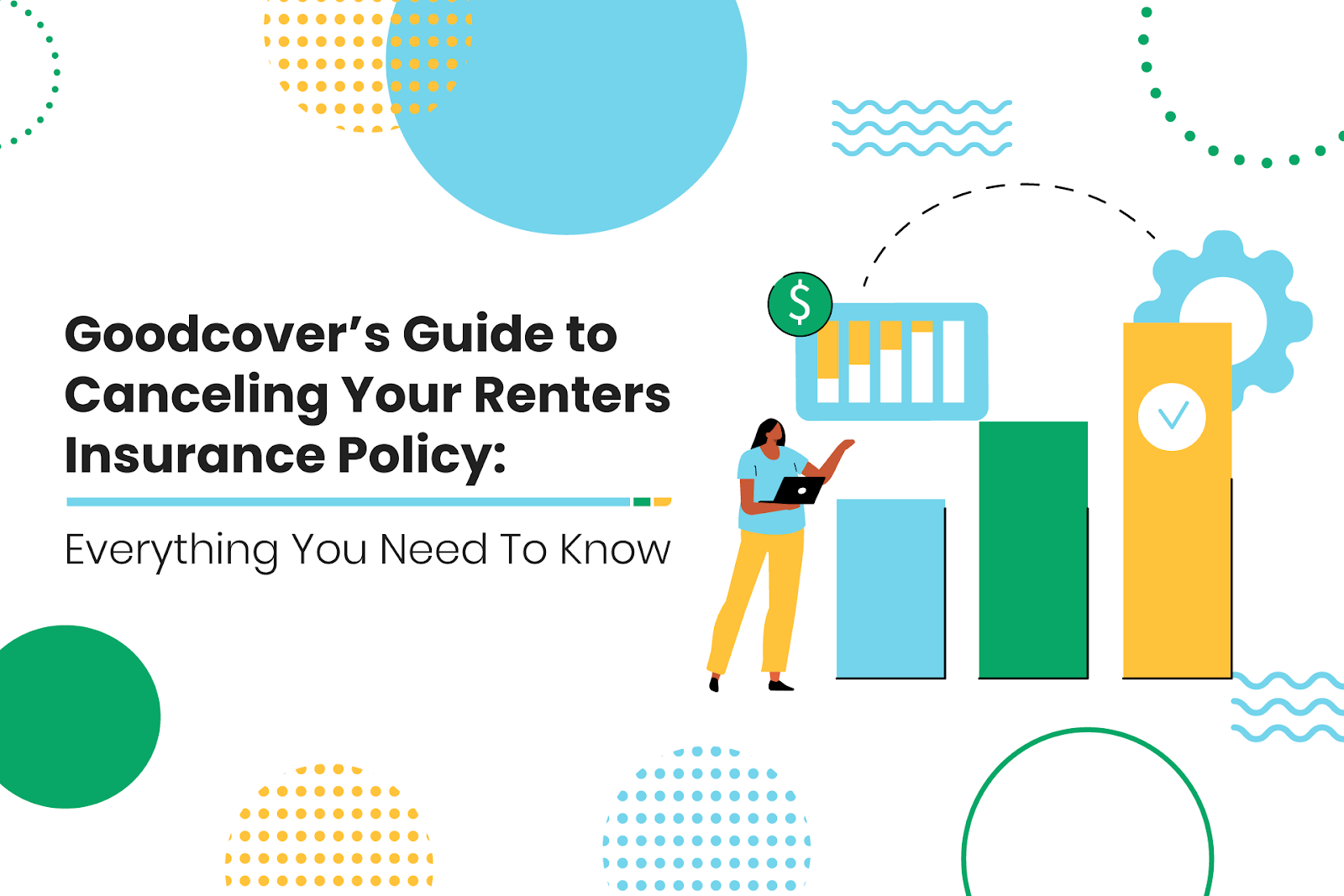 Whether you're moving or just found a better rate, canceling your current policy isn't that hard — but there are nuances.
Keep reading to discover what it takes to cancel your insurance policy and how to do it.

Can You Cancel Your Renters' Insurance Policy?
When Should You Cancel Your Policy?
Do You Get a Refund if You Cancel Your Policy Early?
What Should You Know Before Canceling Your Renters' Insurance Policy?
How To Cancel Your Current Policy
Final Thoughts — How To Cancel Your Renters Insurance: FAQs Answered



Can You Cancel Your Renters' Insurance Policy?
If you want to cancel a renters insurance policy with any company, you can do it right away — it is your legal right to do so.
You can cancel your policy anytime you want, and most times, the process will be simple and easy. That means you can cancel it as soon as it starts, halfway through, or even at the end of your policy term.
One thing to remember is that canceling your policy will depend on two critical factors: state law and the terms of your policy. Your renters' policy has written out terms on how to cancel that contract.
Some may need a period of notice. Others may end your contract right away and charge termination fees. You can contact them directly or speak to their registered insurance agents to learn more about how your insurer handles cancellations.
When Should You Cancel Your Policy?
You should only cancel your renters insurance policy when you have good reasons.
Consider canceling your policy when:
#1. Your Policy Becomes Too Expensive
Circumstances beyond your control can make your renters' policy too expensive. For example, recent inflation across the country has increased the cost of living nationwide.
Your groceries now cost more. You're paying higher rent, fueling your car is more expensive, and car insurance rates are climbing. Interest rates on your loans may also increase.
Plus, insurance inflation can increase the cost of your current coverage. All these factors combine and affect your ability to pay premiums for your renters' policy. In this case, switching to Goodcover could be your best bet if you want to save money.
Goodcover knows you don't need another bill, but you need to know that you'll be taken care of quickly if there's ever an emergency. Goodcover offers plans with some of the lowest rates in the industry, so it's a great choice if you want to stay protected but not break the bank.
#2. Your Policy Doesn't Cover You Enough
All renters' insurance policies cover your possessions, additional living expenses, and liability coverage. But how about temporary housing (aka loss of use)? Does your insurer also protect your personal property when you travel?
What about storage units?
Are your valuables covered as well?
If your renters' insurance policy doesn't offer you enough coverage for potential losses, you might want to switch to a company that provides better coverage.
Goodcover provides temporary housing if you can no longer live in your home after a covered loss (aka "peril") occurs. Our coverage is also worldwide. So, if someone steals your MacBook at a coffee shop in Barcelona, Goodcover will replace it for you.
Another factor to consider is whether your current insurer settles your claims using Actual Cash Value (ACV) or Replacement Cost Value (RCV). ACV accounts for the depreciation of personal items. RCV pays out the total retail price of the item without depreciation, regardless of time passed.
While other insurers offer ACV, Goodcover gives you standard RCV coverage across all plans. That means better value in case a named peril occurs.
You Purchase New Property
As a new homeowner, you no longer need renters' insurance. Instead, you now need homeowners' insurance… right?
Not so fast. If there's still time until you move to your new home from the property you're renting, it's best to keep your renters' insurance.
Policies like Goodcover's will offer you on-premise and off-premise personal property coverage until you move into your new home — which comes in handy until you're fully moved in.
Your Insurer Doesn't Share Your Values
Let's say you bought a renters policy on short notice. Later, you discover your insurance provider doesn't share your values or principles.
Can you cancel your policy with them? Yes, you can.
If your renters' insurance company supports untenable causes by your standards, you can opt for a different provider. A good example is an insurance provider who uses premiums to support policies that hurt consumers or promote inequality.
Goodcover is a Member-driven insurance provider that values you and treats you how we'd want to be treated. After paying out claims and taking a fixed fee for operating the business, we pay back any remaining premiums through the annual Member Dividend. The Member Dividend keeps us transparent and accountable to you and is part of the reason we have a high customer loyalty rating.
You're Moving to a New State
If you're moving to a new state where your current insurance provider cannot underwrite your policy, you can cancel your renters' policy. But to prevent a gap in your coverage, you can purchase a new policy before canceling your old one.
Don't want the hassle of canceling your old policy? Leave that to Goodcover. Check that box in your application, and Goodcover will get your old policy canceled. Goodcover will underwrite your new policy if you're moving to California, Texas, Arizona, or Nevada.
Do You Get a Refund if You Cancel Your Policy Early?
Yes, you are entitled to a refund from your old insurance provider if you've paid all your premiums in full but cancel your policy early. Once you cancel your policy, your insurer will often refund your unused premium.
Depending on your insurer, you may pay a cancellation fee for terminating your policy early. But that may be a small price to pay if you're not getting a better rate with their renters' insurance policy.
That said, most companies will refund your unused premium within 30-days' notice.
What Should You Know Before Canceling Your Renters' Insurance Policy?
Canceling your renters' policy is pretty straightforward, but you should consider a few important points before doing it:
Not Being Insured Can Have Negative Consequences
You can get into some sticky situations if you're not insured. For example:
Depending on your location, you may incur state fines for being uninsured.
You may have to pay for any losses out of your pocket if a peril like fire or theft occurs.
You may be at greater personal liability for other losses and legal action.
To avoid this fate, buy new coverage before canceling your old policy. Doing so helps you maintain coverage throughout your transition period. It also protects you from any insurance gap consequences.
Get a Clear Idea of What Your New Insurance Policy Offers
Before choosing a new insurance provider, compare renters insurance quotes and see what each insurer offers. Your prospective insurer should provide at least what you already have or more.
At Goodcover, you can send us your current policy, and we'll get back to you with a detailed coverage amount and comparison.
Remember, you can join Goodcover instantly — we'll help you cancel your old policy.
How To Cancel Your Current Policy
If you've decided to cancel your renters' insurance policy, here are some steps to follow:
Step 1: Find out if your current lease requires a renters insurance policy. If your landlord requires a renters' policy on your lease agreement, you may breach your lease if you cancel it early. Instead, buy a new renters' policy before canceling your old one.
Step 2: Find out everything you need to know about canceling your old policy. There are several ways to do this:
Go through your old contract and read through the insurer's cancellation policy.
Call your insurer on their helpline and ask how to end your renters' policy. You can also email them directly.
Do some internet research. Such information may also be on their website or online forums.
Visit a registered agent or your insurer's office.
Step 3: Cancel your renters' insurance policy according to your insurer's instructions. That makes your transition process faster. Each insurer has its procedure. It may be as simple as calling a phone or emailing. For others, you may opt out via their app or website. Others may send you paperwork to fill out or set you up with an agent to take you through the process. Quick Tip: You can let Goodcover cancel your old policy if you don't want to deal with the hassle.
Step 4: Pay any outstanding insurance premiums or cancellation fees to facilitate a faster transition.
Step 5: Inform your old insurer about your new mailing address and update your contact information. This way, they know where to send your cancellation documents or any applicable refunds.
Final Thoughts — How To Cancel Your Renters Insurance: FAQs Answered
No matter your reason, you can easily cancel your renters' insurance policy. You can settle it with an email, a call, a website, or by letting Goodcover handle it.

If you have unused premiums, your old insurer will refund you for them. However, remember to buy a new policy before canceling your old one.
Goodcover renters' insurance policy covers more than just the standard stuff. We also offer loss of use coverage and coverage against accidental damage and misplacement. Switch to modern and cooperative insurance with fair rates — get a Goodcover quote.
And once you're signed up, check out our new Goodcover Auto service to help our members quickly compare rates from the top cuato insurers in your area so you can save even more.
---
Note: This post is for informational purposes; insurance regulation and coverage specifics vary by location and person. Check your policy for exact coverage information.

For additional questions, reach out to us – we're happy to help.