Goodcover and Project 529 Partner to End Bike Theft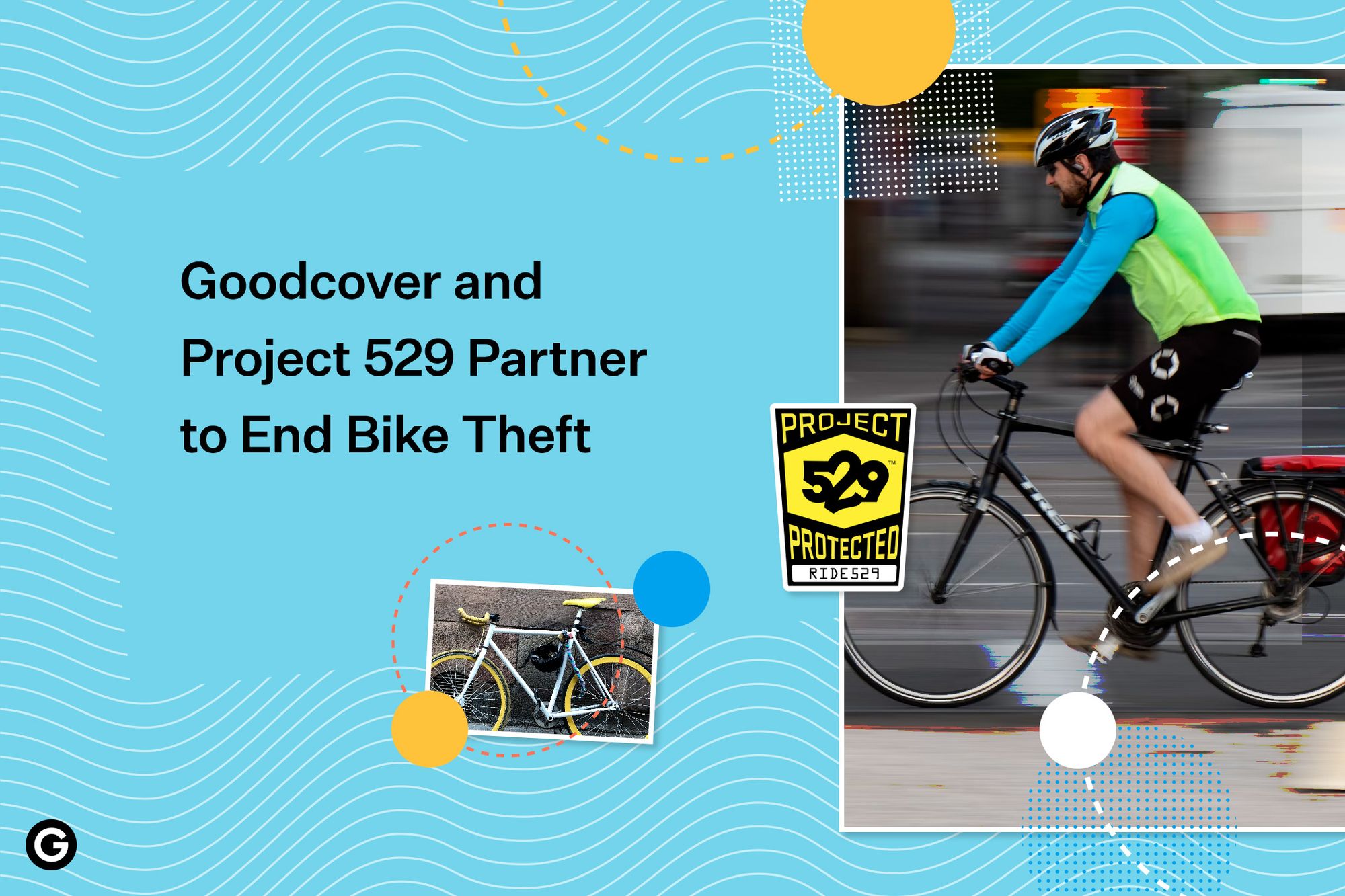 Your bicycle is an extension of you. You may ride it to commute to work, train for triathlons, or spend time with your children on the weekends. But if someone steals or breaks your bike, it will interrupt your routine. Even with renters insurance to help you replace the items, it's never an ideal time to have your bike stolen.

We want to help Goodcover Members protect their bikes better. So, we've teamed up with Project 529 to give you the tools you need to register and recover your bike.

Read on to learn:
What is Project 529?
How to Use Project 529 to Register, Report, and Recover Your Bike
How to Use Goodcover to Replace Your Bike if It's Not Recovered
The Goodcover and Project 529 Partnership
Final Thoughts
What is Project 529?
We first discovered Project 529 when we wrote this post about bicycle theft. Launched in 2013, Project 529 is the world's largest bike registration service. Bicycle owners, cities, universities, law enforcement, and bike shops use the service as a registration, reporting, and recovery program. So far, Project 529 has registered over two million bikes worldwide.

How To Use Project 529 to Register, Report, and Recover Your Bike
So, how does it work? Three main components that make Project 529 tick:
Registration: Project 529 allows you to register details of your bike. Attributes such as color, body size, make, model, or unique add-ons are essential. If you have a bike basket or a unique horn, include that description when registering your bike.

Reporting: If your bike gets stolen, you can mark it as missing in the database. Project 529 will alert the community in your area. We also recommend that you report your bike missing to the police and get an official report. If your bike isn't recovered, you'll need the report for your renters insurance claim.

Another way reporting is helpful? Checking out used bikes you're thinking of buying. Say you go to a yard sale or a pawn shop and find a bike you'd like to buy. Check it against the Project 529 directory first to ensure that no one has reported the bicycle missing or stolen.

Recovery: After Project 529 alerts the cycling community, your chances of getting your bike back improve drastically. With Project 529, 97% of recovered registered bikes make it back to their owners. Less than 2% of stolen bikes are recovered using traditional recovery methods, so Project 529 offers a lifeline. If someone finds your bike, they can let Project 529 know so you can be reunited with it. That's the power of community!

How to Use Goodcover to Replace Your Bike if It's Not Recovered
Although Project 529 is a highly successful service, it's not a guarantee. It's essential to have financial protection in place, just in case no one finds your bike.
That's where Goodcover comes in. We make it easier for renters to afford insurance with insurance plans starting at $5/month. Our GOOD plan, which is standard, protects your bike from theft, vandalism, fire damage, and more. If these things happen, Goodcover's policy is to reimburse Members for their bikes at replacement cost, subject to the personal property limits on your policy. You'll need to pay your deductible to receive compensation.
Or, you can upgrade to SUPERGOOD policy for extra protection

With SUPERGOOD you can get extended coverage just for your bike instead of relying on the personal property limits within your policy. You'll be reimbursed for the total amount, at replacement cost, without paying a deductible. These coverages also kick in for accidental damage to your bike.
If you're considering extended coverage, ensure your bike's value is over $500 – that's where Goodcover's extra protections start.  That being said, SUPERGOOD coverage does have a maximum payout limit of $5,000 per item. If your bike is worth more than $5,000, you may want to explore additional protection options, like bike insurance.
As a Goodcover Member, you'll not only enjoy ultra-low prices, but you'll also become eligible to receive Goodcover's Annual Member Dividend. Every year we return any used premiums to our Members; it's what keeps us accountable to you.
The Goodcover and Project 529 Partnership - Free Shields for Goodcover Members
Along with the registration service, Project 529 offers one more piece of extra protection: The Project 529 shield. Each shield is tamper-resistant and weather-resistant; it will last through years of cycling. It also has an identification number as an extra way to verify that the bike is yours in case someone steals it.

Goodcover Members with bicycles are eligible for a FREE Project 529 Shield.
Here's how to redeem your shield:
First, purchase a renters insurance policy from Goodcover if you haven't already. You can get a quote in under a minute, and our simple joining process will ensure you're covered quickly. Once you've got a Goodcover policy, follow the instructions below.

If you want extended coverage on your bicycle:
Contact Goodcover and let us know you'd like to add extra protection. Once you add SUPERGOOD coverage for the bike category, we'll confirm your shipping address details and send you a shield to register.
Once you receive your shield, visit the Goodcover registry page and register your bike.
Include important information such as custom paint, knicks or scratches, or unique add-ons to help identify your bike if it's recovered.

If you don't want extended coverage on your bike:
Visit the Goodcover registry page and register your bike.
Include important identifying details such as scuff marks, special tires, or a custom paint job.
Please include your mailing address so that we may send the shield.
Goodcover will get notified that you've registered, and we'll cross-reference our database to confirm you're a Member.
Once that's confirmed, your shield will be on its way!

If you already have a Project 529 Shield: Let us know! Contact support and we will work to get your shield associated with your Goodcover account.


Final Thoughts
When someone steals your bike, it can wreak havoc on your exercise regimen, not to mention your happiness, and sometimes your wallet.
Bike owners, join Goodcover today and claim your free Project 529 shield for extra protection and peace of mind. Together, we can end bike theft.
---
Note: This post is for informational purposes; insurance regulation and coverage specifics vary by location and person. Check your policy for exact coverage information.

For additional questions, reach out to us – we're happy to help.