Everything You Need To Know About Renters Insurance in California: The Goodcover Guide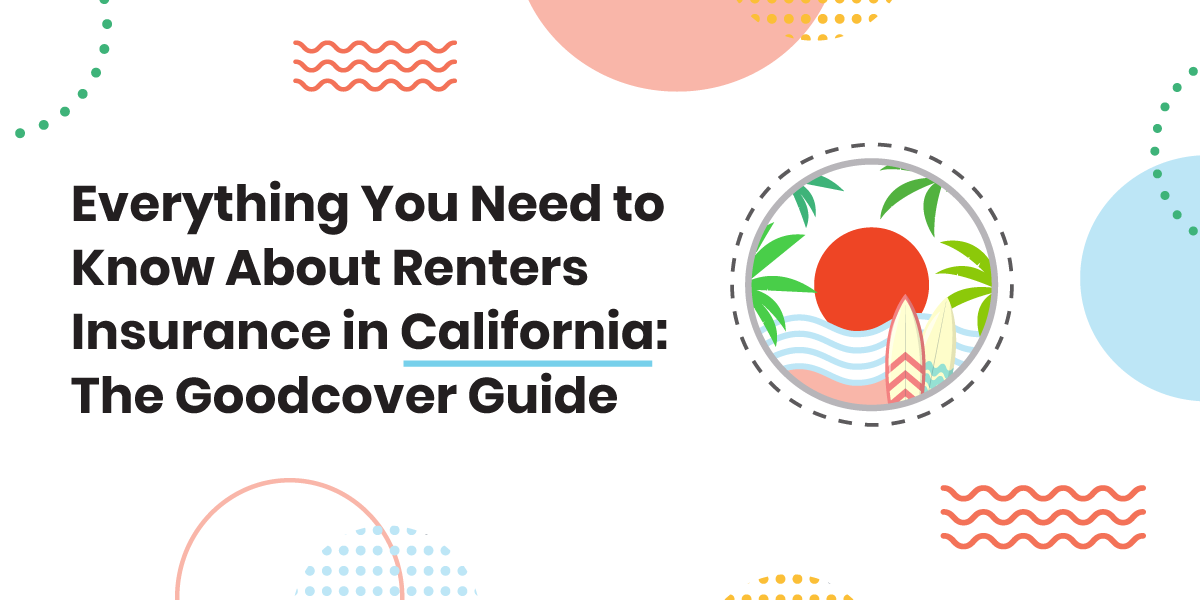 When you rent an apartment in California, renters insurance should be top-of-mind. Even though the landlord might have insured the building you live in, protecting your personal belongings is your responsibility.
If tragedy strikes, having renters insurance will compensate you for any personal belongings that were lost or damaged, provided you have enough insurance coverage.
But how do you go about getting renters insurance in California? And more importantly, what are your options?
We'll tell you. This guide explains everything you need to know before buying renters insurance in California.
Here's what we'll cover:

Is Renters Insurance Required in California?
What Is the Average Cost of Renters Insurance in California?
What Does Renters Insurance in California Cover?
Special Considerations for Renters Insurance in California
Best California Renters Insurance Providers
What You Should Know
Is Renters Insurance Required in California?
The state of California doesn't legally require you to have renters' insurance. However, landlords can require you to carry renters insurance as part of their rental agreement.
California allows landlords to require you to have renters insurance under the lease terms.
Landlords require renters insurance because it helps them avoid potential liability claims from tenants if the property is damaged or becomes uninhabitable — or if someone is injured on their rental property. It also ensures a consistent rental cash inflow even if the tenant faces unexpected expenses from a covered loss.
But renters insurance isn't beneficial to only landlords. A renters insurance policy is mostly in your best interest, even when it's not required by law or your landlord. Think about it: what would happen if someone stole your property or had an accident at your rented apartment?
Instead of paying the costs out of pocket, your renters insurance coverage would reimburse you for the expenses stemming from such events.
Plus, the cost of renters insurance in California makes getting renters insurance coverage a no-brainer. In fact, Goodcover's monthly renters policy costs far less than the cost of most medical expenses and property damage.
What Is the Average Cost of Renters Insurance in California?
Renters insurance in California costs, on average, $17 per month. The price varies based on coverage options, personal property coverage limits, deductible amount, location, and liability coverage, among other things.
For context, vendors like State Farm and Lemonade offer renters insurance for an average cost of $14 and $9, respectively. But Goodcover offers the best renters insurance and beats both State Farm and Lemonade.
Here are the average monthly premiums for cities in California:
The exact renters insurance rates vary by zip code. Get a quote in real time and see what you'll need to pay for renters insurance in California.
What Does Renters Insurance in California Cover?
Renters insurance companies typically cover the following:
Personal property
Personal liability
Temporary housing
Let's explore them.
Personal Property Coverage
What happens when someone steals your laptop during a trip to Los Angeles? Or if your belongings are destroyed by water damage back home in San Francisco? With renters insurance, you'll have peace of mind.
Not all personal belongings are covered, though, and many are only covered up to a certain amount. You can get extended coverage to increase the coverage limits in certain categories with our SUPERGOOD plan.
Personal Liability Coverage
You incur personal liability when you damage someone else's property or someone gets injured in your rented apartment. Renters insurance offers liability protection against expenses like medical bills resulting from such an event.
Note that renters insurance only covers medical expenses for another person's treatment. If you're injured too, your health insurance will cover that.
Temporary Housing (Loss of Use)
Temporary housing coverage, also called loss of use, reimburses you for additional living expenses resulting from a covered loss (such as a fire) that renders the apartment uninhabitable.
For example, if a fire destroys your apartment, you might need to arrange for accommodation elsewhere. If you live in a hotel, your renters insurance policy will reimburse you for the hotel room, parking, food, and other additional expenses.
Other Types of Coverage
California renters insurance protects you against damage from vandalism, fire, windstorm, water, theft, explosion, lightning, smoke, and other disasters mentioned in your policy.
Note that renters insurance won't cover any damage caused to the building structure you live in, even from a fire or windstorm. Landlord's insurance covers any damage to the building's structure.
Special Considerations for Renters Insurance in California
Having renters insurance in California is critical to protect you against myriad perils. But what about natural disasters? Since California is prone to several of them, here are a few things to be mindful of:
Insurance Providers May Deny Coverage for Wildfires
Wildfires are a common phenomenon in California. Renters insurance covers damage from fires, but if you can't find coverage in wildfire-prone areas, you might want to consider the California FAIR plan.
The state offers the FAIR plan. It is generally for people who cannot get renters insurance from other insurance providers.
The downside to the FAIR plan is its limited coverage — it only covers you against fire, wind, theft, and internal explosions. You'll need to pay for a "difference in conditions" policy if you need more coverage.
Consider Additional Coverage for Earthquakes
Two-thirds of all earthquakes in the U.S. occur in California. Unfortunately, renters insurance doesn't cover earthquakes. You'll need to buy a different policy to protect your personal property against damage from earthquakes.
The California Earthquake Authority website has a dedicated section to help renters find the right earthquake insurance policy.
Earthquake insurance is available in addition to your base Goodcover policy through Palomar, our Partner.
Renters Insurance Doesn't Cover Floods
Flood damage is another key exclusion on any standard renters insurance policy. You can buy flood insurance through the National Flood Insurance Program (NFIP). The policy covers buildings, whatever is inside the building, or both.
California Renters Insurance Providers
Goodcover

Goodcover offers the best renters insurance policies for residents of the Golden State. With Goodcover, you save an average of 42% on renters insurance premiums and access a seamless insurance claim experience when needed.
Here's why we're able to offer such low rates:
We cut out unnecessary spending
We digitize the process
We have a granular formula that better calculates risk
Goodcover plans are affordable and rates will vary based on your zip code and policy limits. Our renters coverage offers higher limits and lower rates.

If that sounds intriguing, get your quote today — it only takes a few minutes.
Now, let's compare our rates to some other popular providers.
Lemonade
Lemonade notes that their standard renters insurance policy starts at $5 per month. But when you get a quote, the cost goes up considerably.
For example, the quote for zip code 93657 (Sanger, CA) is $12 per month with the following benefits:

Goodcover's most comprehensive policy (GOODEST) for the same zip code costs $3.80 less per month than Lemonade, offers 5x more personal liability coverage, and 5x more guest medical payments. You get $30,000 coverage for personal property, but increasing it to $40,000 to match Lemonade's still saves you $3/month over their price.
GEICO
GEICO is much like Lemonade — it offers online insurance and an app with a simple interface.
It also provides cheap earthquake coverage that can supplement your renters insurance policy. You get a discount if you have an existing auto insurance policy with GEICO. But even with the discount, GEICO is an expensive proposition.
We used the same zip as in the previous example to get a quote on GEICO. It quoted $23.67 per month:
More importantly, at that price, GEICO offers personal property coverage worth only $15,000 and personal liability limit of $100,000 with a $500 (!!) deductible. That's not the most impressive deal.
What You Should Know
While many brands offer renters insurance discounts, Goodcover's policies provide better coverage for lower premiums. Your personal belongings are protected nationwide or even when you're outside the U.S.
What's not to like? If you're a Californian looking for the most cost-effective renters insurance policy, get a quote from Goodcover today and protect yourself against adversities.
And to make it even easier to manage your insurance, we've introduced our Goodcover Auto service that helps you quickly compare prices on car insurance from top carriers in your area so you can save even more. This service is exclusively available for Goodcover Members.
---
Note: This post is for informational purposes; insurance regulation and coverage specifics vary by location and person. Check your policy for exact coverage information.

For additional questions, reach out to us – we're happy to help.