Your Guide to San Francisco Renters Insurance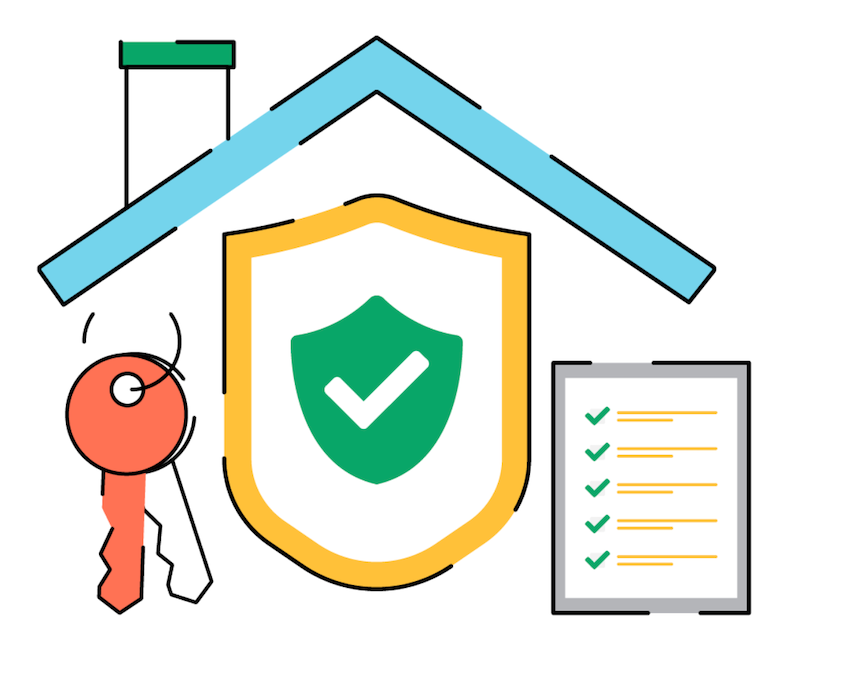 Renters occupy an estimated 65% of households in San Francisco -- nearly twice the national average. Whether you're sharing a house with roommates or living alone, renters insurance provides financial backup in case of a break-in, theft, water damage, or other risks.

If you're confused by renters insurance, you're not alone. Luckily, Goodcover helps make San Francisco renters insurance fair and affordable.

First off, the basics: renters insurance makes sure you have a financial backup for your stuff. That means everything from your vinyl records to your computer is covered if there's a fire or you have a break-in.

There's a bit more to it, so keep reading to discover:

Is Renters Insurance Legally Required in San Francisco?
Average San Francisco Renters Insurance Cost
What Does Renters Insurance Cover in San Francisco?
What Does Renters Insurance Protect Against?
Top San Francisco Renters Resources for Tenants

Is Renters Insurance Legally Required in San Francisco?

No, you're not legally required to purchase renters insurance in San Francisco. However, there's still a good chance your landlord will require you to have renters insurance.

That's good for both of you. If there's damage to the property, the landlord can get it fixed quickly, and it doesn't have to come out of your pocket.

The only situation where your landlord may have a limit on the amount of renters insurance they can require is if you have a rent-controlled apartment.

Even if it isn't required, it's still a good idea. In 2020, the San Francisco Police Department recorded 7,566 cases of burglary. Across California, there were 7,450 fires. These are just two of the risks that your renters insurance would cover.

Although the chances are minor, surprises – big and small – do happen. For that reason, we made the cost of getting insured as low as possible to ensure you're protected.

Average San Francisco Renters Insurance Cost

Property in San Francisco is notoriously expensive. Does that mean San Francisco renters insurance has to be costly too? Not necessarily.

The usual renter's insurance companies like State Farm and Allstate cost around $20 a month. It's not necessarily an arm and a leg, but the average cost of renters insurance still adds up to $240 a year.

With Goodcover, you'll pay less than half that amount. Our average policy costs just $87 a year, saving you over $150. With all that extra cash, you could splurge on two tickets to a Giants game or add a smart doorbell to your new front door.

Not only that, but we return the amount that wasn't didn't get used for member claims to you every year through a member dividend.
You may wonder why renters' insurance prices vary so much. It's because insurance companies use a lot of data to assess the relative risk of a renter. Similar to auto insurance, your location, age, claims history, and coverage amount impacts the final cost.

If you want an answer that's super-relevant to you, you can quickly answer a few questions and get a renters insurance quote to view your coverage options.

What Does Renters Insurance Cover in San Francisco?
San Francisco renters insurance covers more than just your personal belongings. It also covers medical expenses for your guests and temporary housing expenses if you can no longer comfortably use your rental due to a covered loss.

If your friend visits and slips and falls on your floor, you won't be stuck with their medical payments. This at is known as liability coverage.

You may need to use the temporary housing coverage if a kitchen fire destroys a part of your wall, exposing your home to the elements. With Goodcover, renters insurance will cover the cost of staying in temporary housing, your meals while you're not at home, and more. This policy is known as loss of use coverage and comes standard on every Goodcover renters insurance policy.

Renters insurance even offers personal property coverage outside your home. For instance, if you're biking to work and decide to stop at a coffee shop for a quick espresso, only to come back and find your bike stolen from the rack, don't panic. Drink your espresso, report the theft to Goodcover, and relax.  We'll help get you a replacement.

Car break-ins are another claim we regularly see from our San Francisco Members. Although we don't cover the damage to your vehicle (your auto insurance may cover that), we'll protect your personal belongings stolen from the inside – like a laptop, phone, or jewelry.

Curious about the nitty-gritty of everything renters insurance covers? We break it down in-depth in our renter's insurance coverage guide.
What Does Renters Insurance Protect Against?

Typical renters insurance policies for large cities cover you against theft, vandalism, riots, and more. San Francisco renters insurance also covers fire, ice, many types of water damage as well as falling objects.

Unknown to most people, renters insurance can also cover accidental damage and misplacement. With Goodcover, you can add this coverage with our SUPERGOOD and ULTRAGOOD packages for just a few dollars more per month.

That means if you accidentally step on your tablet and crack the screen, it's still covered. Or if you lose your phone over the weekend, that's a covered loss, and you can make a claim.

Last but not least, there's the primary concern for many Bay Area residents — earthquakes. Renter's insurance doesn't usually include earthquake coverage, but it is available as an add-on to your Goodcover policy through Palomar.

The bottom line is a renters insurance policy can protect you from a whole lot starting at just $5 a month.

Top San Francisco Renters Resources for Tenants

At Goodcover, we believe knowledge empowers people to make the best financial decisions.

To that end, we've compiled a few resources for tenants below:

If you're not sure just how much Goodcover can save you on your San Francisco renters insurance, get a renters insurance quote in a few seconds.

If you're ready to switch, we'll even cancel your old policy for you. Just send your current policy to compare@goodcover.com to get a complete comparison analysis.
---
Note: This post is meant for informational purposes, insurance regulation and coverage specifics vary by location and person. Check your policy for exact coverage information.

For additional questions, reach out to us – we're happy to help.