Everything You Need to Know About Renters Insurance and Wildfire Damage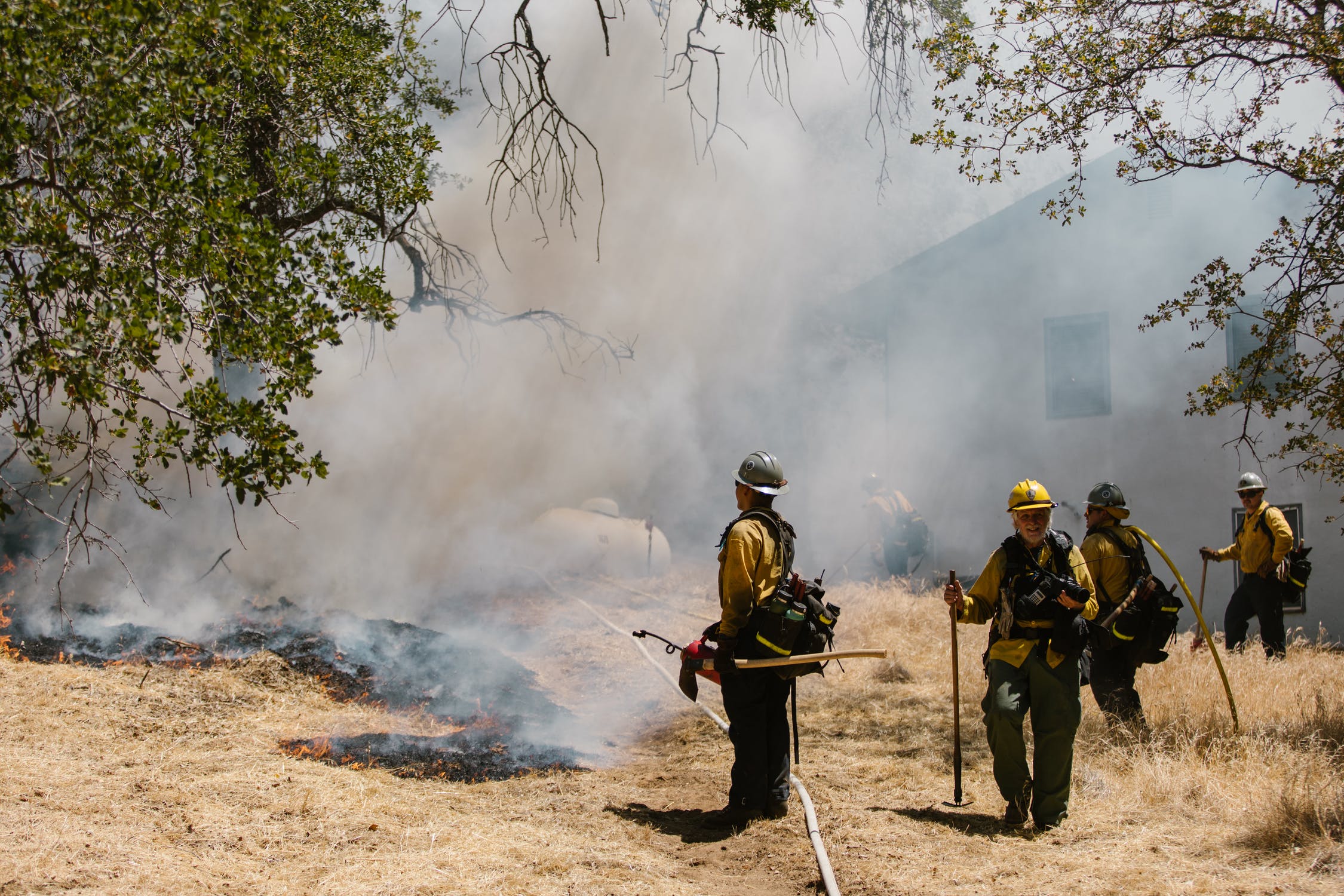 Due to climate change, wildfire season in the U.S. has become more threatening each year.
On average, more than 70,000 wildfires occur annually. In 2020 alone, California saw over 9,000 fires that left more than 10,000 structures damaged or destroyed.

Fire and smoke from a wildfire can damage your property and even make your apartment uninhabitable.

Suppose you live in an area affected by a wildfire. In that case, you may be forced to replace expensive items,  evacuate your apartment, and incur additional living expenses such as staying at a hotel and dining out.

Not every natural disaster is covered by standard renters insurance policies. Property damage caused by earthquakes, sinkholes, and floods, for example, often require additional coverage.

But what about wildfires? Do you need to purchase additional wildfire insurance if you have renters insurance?

The answer depends on a few factors, such as what type of policy you have and where you live – but the short answer is: with Goodcover, you're covered.

Keep reading to learn:

Is There Such a Thing as Wildfire Insurance?
Wildfire Insurance and Your Renters Policy
What Your Renters Insurance Does Not Cover
Final Thoughts: Does Your Renters Policy Cover Wildfire Damage?

Is There Such a Thing as Wildfire Insurance?
With Goodcover, standard renters insurance policies cover wildfire damage. However, in places where wildfire risk is higher, you may find you cannot get wildfire coverage through other companies' standard renters insurance. California and Colorado renters, take note.

Some policy providers in the insurance industry in wildfire-prone areas refuse to offer fire protection altogether. Some provide wildfire insurance as additional coverage, which requires another deductible. If you live in a high-risk area, it's best to check your insurance policy to determine if your insurance carrier includes wildfire coverage in your policy. For renters living in higher-risk ZIP codes, Goodcover's affordable renters insurance covers damage caused by wildfires.


Wildfire Damage and Renter's Insurance
Some frequently asked questions about wildfire coverage include:

Does renters insurance cover fires?
Does wildfire insurance cover smoke damage?
Does additional living expenses coverage kick in if there's a mandatory evacuation?
Does renters insurance cover hotel stay?

Most standard renters insurance policies providers cover damage caused by fire and smoke, including wildfires. Still, the details can seem a bit vague.
Renters insurance covers three main categories: personal possessions, liability, and additional living expenses. Here's how wildfire insurance coverage breaks down for each category of your renters insurance policy:
Personal Property
Fire and smoke are both covered losses (aka "named perils" or "covered perils") on a standard renters insurance policy. In other words, your renters insurance covers damage caused by any fire or smoke as long as you don't intentionally damage your property.


In the case of a wildfire, renters insurance covers damage caused by fire and smoke. Your policy even covers you if the water used to put out the wildfire causes damage to your personal property such as furniture, computer, or television.

Your insurance company will also reimburse you for property damage and loss caused by theft or vandalism during the wildfire.

Finally, renters insurance covers spoiled food caused by a covered peril. Suppose the fire causes a power outage (or local authorities cut power as a preemptive response to a wildfire). In such a case, your renters insurance covers the replacement cost for food that spoiled while your refrigerator or freezer was off.

Holding on to your grocery receipts can help you estimate your reimbursement amount on an insurance claim.

Your losses from a wildfire are covered up to your personal property policy limits, as written on your policy. Personal property coverage limits for renters insurance typically start at $10,000 but may range up to $100k or more. Goodcover limits range from $10,000 to $100,000. Typically, renters need around $25,000 in coverage.

So, let's say the value of your property exceeds $10,000. In that case, you may want to increase your personal property limit on your renters insurance policy.
Liability
Liability coverage does not usually apply to wildfires since you are not liable for damage caused by a natural disaster. However, your renters liability coverage does cover you if you cause accidental fire damage.

If you accidentally injure another person or cause property damage involving fire, your renters insurance will cover your liability expenses. However, liability coverage does not cover any intentional damage or injury.

Some examples of liability coverage involving fire include accidentally burning someone by leaving your stove turned on in your apartment building. Most renters insurance policies offer up to $100,000 in liability coverage, the typical amount requested (or required) by landlords.

With Goodcover, you can opt for liability coverage ranging from $100,000 to $500,000.
Loss-of-Use & Additional Living Expenses
Temporary housing coverage, also known as "loss-of-use coverage," reimburses you for additional expenses incurred when your home is uninhabitable due to a named peril.

Let's say your home experiences extensive fire and smoke damage that requires you to relocate for some time. In that case, your insurance policy covers the difference between your additional and your typical living expenses. In other words, insurance will kick in for temporary housing, meals, and additional living expenses resulting from your displacement. You'll still have to pay your regular rent, though.

Your policy will even cover costs incurred if your commute to work becomes longer or more expensive due to a necessary evacuation.

Exactly how much coverage you have is dependent on the personal property limits you choose when you purchase insurance. For example, the GOOD rental policy from Goodcover covers $3,0000 for additional living expenses and covers $10,000 in personal property. That policy starts at around $5/month, based on your zip code. You can protect additional personal property and get more temporary housing coverage with our GOODER or GOODEST coverage. Upgrading coverage usually costs just a few dollars more per month.

Not sure what your limits should be? Don't worry, that's normal. Find out how much renters insurance you need.

Special Case: Evacuations
If you're worried about accumulating costs during a mandatory evacuation, you're not alone.

Goodcover member Ananda was concerned when she heard that wildfires were moving closer to her neighborhood. Unsure whether or not her renters insurance policy would cover extra expenses like a hotel room, she felt anxious about what might happen next.

Goodcover called her before mandatory evacuations orders reached her area, much to her relief. Goodcover gave her a clear understanding of what her renters insurance covered and which documents she would need to process her claims quicker.

When the evacuation order came, Ananda moved to an Airbnb. She kept records of her lodging receipts plus meals and the additional mileage on her commute to work. She could rest assured knowing that her policy covered these extra costs.

Most insurance companies typically extend loss-of-use coverage when local authorities issue a mandatory evacuation, even if your building doesn't end up experiencing damage. Goodcover works this way, but not all carriers do, so check your policy if you've got renters insurance with another provider.

However, if you choose to evacuate due to an evacuation warning, you won't receive coverage for your additional expenses. Once the evacuation becomes mandatory, loss of use coverage kicks in. If evacuation isn't mandatory and the fire reaches your apartment anyway, your personal property coverage will protect your belongings.


What Your Renters Insurance Does Not Cover
Renters insurance only covers your personal property and liability; it doesn't cover your apartment or dwelling structure if wildfires damage them.  Your landlord's or building owner's insurance policy covers the structure of your home.

Renters insurance does not cover your roommate's property unless they're listed as one of the policyholders. Additionally, renters insurance typically does not cover car damage. Instead, you'll want comprehensive auto insurance to cover damage to or theft of a car due to wildfire.

Lastly, your insurance can't pay you for more than your coverage limit. It's crucial to set policy limits that protect the value of your personal property.

Final Thoughts: Does Your Renters Policy Cover Wildfire Damage?
Wildfires are a real threat in many areas of the United States, and the danger seems to be getting worse every year. Climate change is a societal-level problem that requires complex solutions. Still, community-powered insurance like Goodcover plays a role in making sure a natural disaster doesn't turn into a personal tragedy.

If you're a renter, you can rest assured that your policy covers your property when damaged by fire or smoke from wildfires.



Renters insurance is an affordable way to protect your personal property and living expenses if you experience property damage or dislocation due to a wildfire.

Save money on your renters insurance policy with Goodcover. Find cost-effective insurance rates in your area by entering your ZIP code today.
---
Note: This post is meant for informational purposes, insurance regulation and coverage specifics vary by location and person. Check your policy for exact coverage information.

For additional questions, reach out to us – we're happy to help.