How it Works: The Regulation of Insurance Companies, aka How Goodcover Offers Lower Prices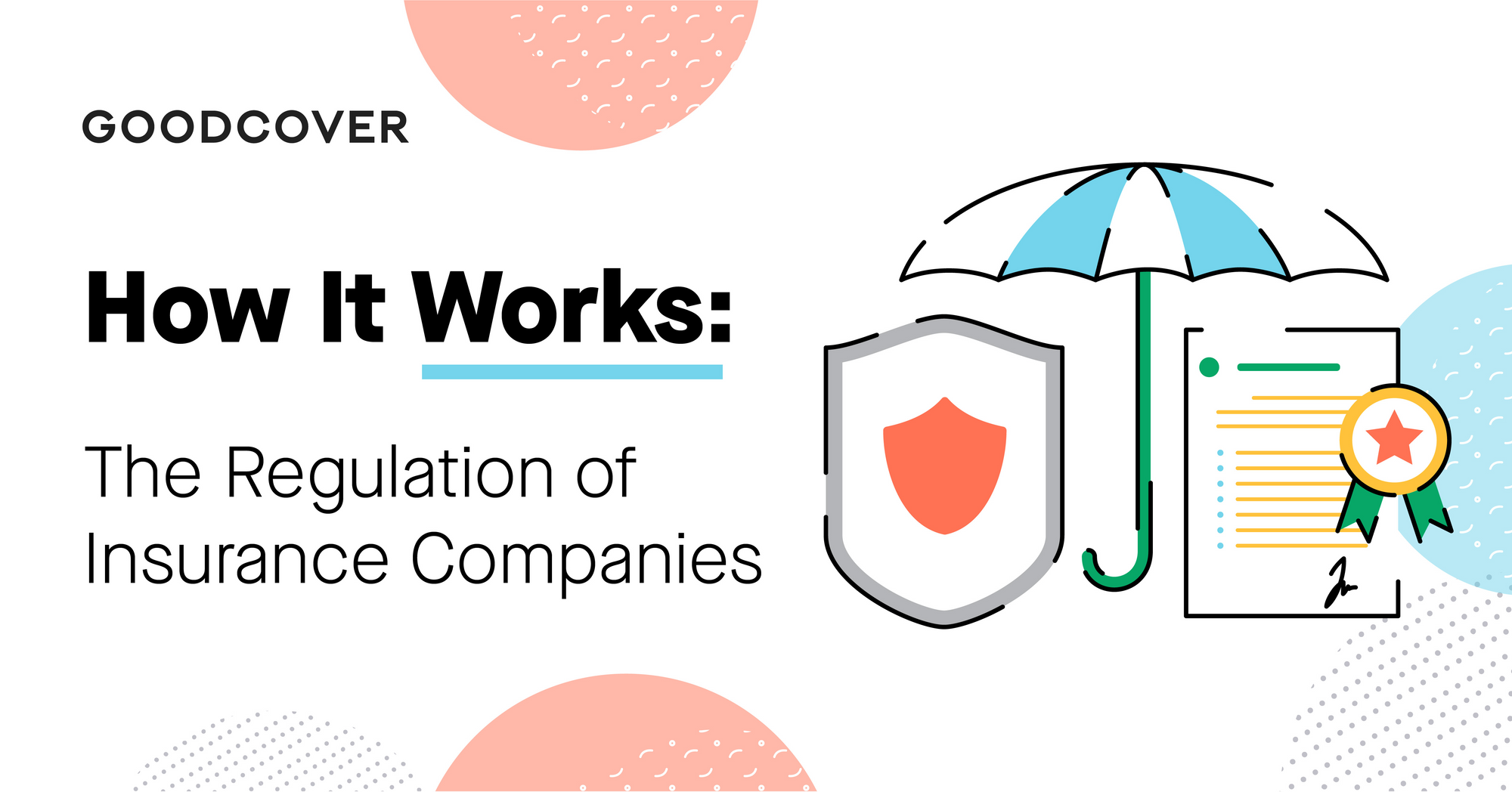 The business of insurance can seem like an enigma. It can seem like companies make insurance intentionally difficult to understand and that businesses are quietly deceiving their customers by charging them overly high prices, creating confusing policies, or denying their claims for no good reason.
Insurance is an essential part of protecting you, your family, and your property. As a consumer, in order to make an informed decision about your provider and feel confident about where your money is going and why it's vital to understand how the sausage gets made. Or, in this case, how insurance rates get created.
As someone who grew up in insurance and worked in the industry for over a decade, I'm frequently asked how the process works, from everyone from a new member buying insurance for the first time to an established venture capitalist who's had it for years.
And now, as the CEO of Goodcover, they ask how we can charge such low prices.
I've gotten questions like, "How can you offer renters insurance for such affordable prices when the going rate is usually much higher? Does that mean you're cutting corners, or are you just making prices up?"  
At Goodcover, we believe in transparency, and we want to unmask the insurance complexities, so our members better understand our affordable prices and offerings. So how do insurers arrive at their prices? Is there regulation of insurance companies?
In this post, we'll answer all that and more, including:
Are Insurance Companies Regulated?
Purpose of Insurance Regulation
How Insurance Regulation Works
Different Prices for Different Insurance Carriers
The Goodcover Difference
Final Thoughts: How It Works — The Regulation of Insurance Companies
Are Insurance Companies Regulated?
Insurance companies are regulated at the state level. All pricing and coverage must abide by insurance laws and regulations. An authoritative body, usually the Department of Insurance, oversees rate regulations for various types of insurance.
Regulatory policy affects all different lines of insurance, including commercial lines and personal policies like homeowners or health insurance. It impacts our products too. In this post, we'll focus on Goodcover's domain of property insurance.
Now, how hard can insurance really be? It's not rocket science!
Well, even Elon Musk has recently drawn attention to the complexity of building and rolling out an insurance product. He tweeted explaining that Tesla Insurance, which currently is only available in California, is taking longer to be available across the country because of state-by-state regulations:
While there is a Federal Insurance Office (FIO), there are no federal insurance regulations for property insurance. The FIO only advises state-based insurance regulation along with other groups like the National Association of Insurance Commissioners (NAIC).
So why does the regulation of insurance companies matter for our members?
Regulation matters because this means our prices have been scrutinized and evaluated by state insurance regulators. Every dollar we charge is accounted for and approved.
Insurance companies can't charge whatever they want. Market regulation and state legislatures verify prices based on factors such as its cost to administer the policy and the expected loss from claims. Insurance companies can't operate unless they meet the criteria.
Purpose of Insurance Regulation
Insurance is seen as a matter of public interest. The regulation of insurance companies is for consumer protection, so policyholders aren't taken advantage of by unfair prices or substandard coverage.
Quick history lesson.
The American insurance industry has deep roots starting in the mid-1700s. It was akin to the Wild West during this time period, with companies charging whatever they wanted and disappearing with people's money.
Things started to change after the invention of the automobile when there were considerable variances in the quality and availability of insurance.
So in 1945, Congress passed the McCarran-Ferguson Act into federal law. It declared insurance company regulation was up to state regulators to decide, instead of the federal government.
Since then, companies and their practices are monitored to ensure the rights of insurance consumers.
How Insurance Regulation Works
If you want to write insurance, you need to get a license to do it. In California, that means getting a license from the Department of Insurance and then submitting your policy forms for approval. These proposed numbers aren't wishy-washy estimations but the actual dollars and cents calculated.
These rate filings are public and accessible to anyone who wants a closer look at their insurance policy.
The regulation of insurance companies also continues as policies evolve. If a rate increases or changes, it'll require another review of insurance.
Individual states have varying perspectives of priorities.
Certain states, like California, elect an insurance commissioner. So California's Department of Insurance regulations has more of a consumer bend. This includes state laws like not requiring a credit score to set an insurance price because that practice has led to discriminatory practices.
The regulatory framework includes the ability to put restrictions on areas that would normally be interstate commerce. For example, California insurance regulations don't allow national brand advertising to be included in the state's rates —- they don't want California's consumers to pay for a company's advertising in say New York.
There are certain insurance statutes as well, such as offering the same rates for the same levels of risk and requiring legal minimums for specific coverage areas.
This is why, in your policy, you'll see coverage for historical items like furs, even though hardly anyone has them today. It's part of the regulation minimum requirements, so we insure them. It's more work to convince the regulators why you're removing coverage instead of just insuring the item. In the end, it doesn't impact our business or how much you pay.
Different Prices for Different Insurance Carriers
So with the regulation of insurance companies, why are prices not all the same?
Insurance prices are calculated by:
How much it costs to do business
How much losses you're expecting to pay
The profit margin your company is expecting
Within the applicable regulations in those areas, companies create their rates.
Some companies have a lot of overhead and spend money on expensive advertising campaigns or hiring insurance agents. Others have a looser way of calculating risk management.
Goodcover approaches this differently, which is why we can offer quality coverage at lower prices.
The Goodcover Difference  
So how can our prices be so low? Three reasons:
We cut out unnecessary spending
We digitize the process
We have a granular formula that better calculates risk
Simply, the less waste between you and a policy means lower costs for you. Unlike other companies, we don't pour millions into advertising campaigns with celebrities and computer-generated reptiles.
Moreover, we're dedicated to modernization. So, we issue no paper and forgo agents for efficient technology that gets you a policy in under a minute.
Goodcover also uses better technology and cutting-edge data to price out risk factors. For example, we look at factors like slope and vegetation level to more precisely determine fire risk. The more granular information we use ensures a more accurate price for you, while other insurers may bucket everyone at the same risk level, increasing their prices.
And in terms of profits, those go back to our customers with our Member Dividend. We don't gouge you on prices to increase our own profits. Instead, we charge reasonable prices, take a fixed fee, and if money's leftover it goes back to our members.
All of this allows us to be much more affordable than other companies. And with those prices undergoing scrutiny from regulating bodies, you can rest assured they're legit.
Insurance is a competitive market. It can be hard to compete with legacy agencies as insurance regulation can be tricky to navigate. It's called the regulatory moat, and it's part of the reason it's so difficult for startups to enter the space.
But at Goodcover, we have the expertise and patience to jump those hurdles so we can provide the best coverage for our members.
Final Thoughts: How It Works — The Regulation of Insurance Companies
Just as you want to understand your taxes or investment options, insurance is a financial product where the more you know, the better choices you can make for your coverage and wallet.
Insurance matters can be confusing. But know the prices you pay have been approved by the regulatory authority at state insurance departments to ensure your protection as a consumer.
At Goodcover, we've done the work to meet insurance regulatory compliance, and we're so confident that we offer the best rates for our members that we offer what we call the Goodprice Guarantee, if you find a lower price with a competitor for the same coverage we'll refund your premium.