Your Ultimate Guide to Los Angeles Renters Insurance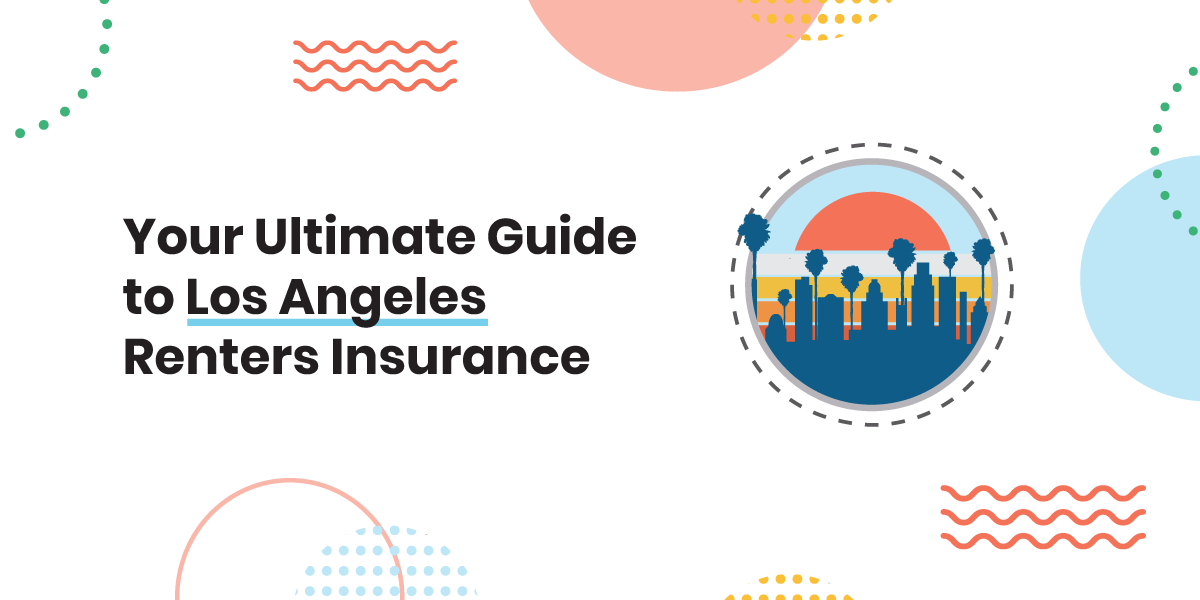 Los Angeles is a vibrant city with a high quality of life, great weather, delicious tacos, and the beach. Los Angelenos are active and consider Southern California their playground — so it's vital to ensure they've got protection inside and outside their homes.

Whether you're a struggling actor in Hollywood, a young professional working from your downtown loft, or a college student at one of the many universities in the area, there's no reason you should ever have to replace your belongings out of your pocket.  You've already bought them once!

A renters insurance policy protects your prized possessions in case of a fire, break-in, or other potential disasters.

Many people are looking to save money whenever they can. And with the average rent in Los Angeles being $2,661 per month, the benefits and cost of renters insurance are crucial factors to consider when looking for renters insurance coverage in L.A.

Keep reading to discover:

Is Renters Insurance Legally Required in Los Angeles?
How Much Is Renters Insurance Los Angeles?
What Does Renters Insurance Cover in Los Angeles?
What Does Renters Insurance Protect Against?
Top Los Angeles Renters Resources for Tenants
Is Renters Insurance Legally Required in Los Angeles?

No, just like your landlord providing an in-unit refrigerator, renters insurance is not legally required in Los Angeles.

But there's a good chance that your landlord may require you to have renters insurance as a condition for renting the place. Always check with your landlord to see if they require renters insurance during the application process so you're not caught by surprise.

And it's a good idea to purchase renters insurance even if your landlord doesn't require it. If there's a fire or you cause property damage and your landlord comes after you for the money, it can put your bank account in seriously hot water. With your renters insurance policy protecting you, you'd only have to pay your deductible – a much more reasonable expense.

Let's talk burglary. LAPD shares that there was a 4.1% increase in burglaries between April 17, 2022, and May 14, 2022. This shakes out to about 1,084 actual burglary crimes, so it's easy to see why renters insurance in Los Angeles is crucial to have.
Do I Need To Add My Landlord to My Policy?
Your landlord may want to be listed as an additional interest for informational purposes. That allows them to see your liability limits and confirm you have an active insurance policy.

As an additional interested party, your landlord will only see the policy but won't be able to change it. If your landlord wants to be named on your policy, confirm that you'll add them as an additional interest, not additional or named insured
If you need it, the Goodcover support team can assist you and send a letter explaining why your landlord shouldn't be additional insured on your policy.
Should I Add a Roommate or Significant Other?
You can't currently add a roommate to your renters insurance coverage since they can get their own affordable policy (Goodcover plans start at $5 per month). But adding a significant other is easy.
Be aware that if you name your significant other as additional insured, they'll be able to make changes to your policy and get paid. For example, if someone steals your TV, your significant other will also get paid as one of the policyholders.
And, there's no need to worry about discriminatory or anti-LGBT+ housing policies. If your landlord views your policy as an additional interest, they won't know the nature of your relationship, just that you are sharing a renters insurance policy.
How Much Is Renters Insurance Los Angeles?
The average cost of renters insurance from most providers in Los Angeles is $265 per year. But Goodcover beats them all. With plans starting at $5 per month, Goodcover Members will pay an average of $87 per year, saving $178 annually compared to competitors like Allstate, which charge approximately $247 per year.

Besides that, we also return any unclaimed premiums to our Members through the Goodcover Member Dividend. For example, Goodcover returned 1.93% of the collected premiums to Members in 2021.

The average cost of renters insurance in L.A. is also reasonably stable. According to ValuePenguin, renters in Westchester, the cheapest neighborhood, save only $26 per year compared to renters in Mid-City, the most expensive area.
What Does Renters Insurance Cover in Los Angeles?
Los Angeles renters insurance covers more than your personal property. It also covers medical payments for your guests and additional living expenses if you can't comfortably live in your apartment due to a covered loss.

Let's now break down the three coverage options that renters insurance offers:

Personal property coverage
Liability coverage
Temporary housing (loss of use)

Personal property coverage comes into play in the event of a covered loss. It pays for the replacement cost of your personal belongings (up to your coverage limits) when there's a covered loss, such as theft or fire.

For example, if someone breaks into your house and steals your laptop and other appliances, your renters insurance policy will compensate you.

Liability insurance covers damage to other people's property (such as your landlord's) or injuries to guests in your home. For instance, liability protection will kick in if you flood your neighbor's apartment and they sue you. Or, if a guest falls in your house, you won't be forced to cover their medical expenses — the insurance agency will.

Temporary housing pays for additional living expenses if you can't live in your house comfortably due to a covered loss.

For example, suppose a wildfire or residential fire razes down part of your apartment, forcing you to live in a hotel temporarily. In that case, your insurance company will cover your additional living expenses while you wait for your house repairs.
What Does Renters Insurance Protect Against?
Renters insurance in Los Angeles typically covers you against fire, lightning, explosion, and smoke. It also covers many kinds of water damage, theft, vandalism, and more.

Renters insurance can also cover accidental damage. With Goodcover, you can add this coverage with our SUPERGOOD package for just a few more dollars per month. You can opt for a SUPERGOOD upgrade for certain categories of items, such as jewelry and watches.
Goodcover's extended coverage option also offers zero-deductible, which means you get paid the full replacement value of your items covered by SUPERGOOD.
That being said, the SUPERGOOD plan has a maximum payout limit of $5,000 per item. So, if you have jewelry worth more than $5,000 (say, an engagement ring), you may need extra coverage.
L.A. is known to have many cyclists, so if you own a bicycle, your renters insurance company will reimburse you if it's stolen or damaged by a covered peril such as theft or vandalism. For example, if someone steals your bike, the insurance company will pay the replacement cost of your bike minus the deductible. You can also make a claim on your renters insurance for stolen parts like a seat, bike lock, or wheel.
Goodcover Members who have bicycles are also eligible to receive free bike shields from Project 529. These weather and tamper-resistant shields add an extra layer of protection for your bike and will help others identify your bike if it's stolen.

Most standard renters policies cover traditional bicycles that don't have motors or engines.

However, if you own a motorcycle or an electric bicycle (e-bike), you should check with your insurance agent to see if you're covered.
Top Los Angeles Renters Resources for Tenants
It's important to know your rights and have resources available for We've compiled the following resources for Los Angeles tenants:
If you're planning on renting in L.A. but aren't sure how much Goodcover can save you on your Los Angeles renters insurance, you can get a quote in under a minute.
If you already have an existing policy, email compare@goodcover.com and we'll compare your rates to ours. If you're ready to switch, we'll cancel the old policy for you and refund anything you prepaid.
---