The Goodcover Guide to Renters Insurance in Texas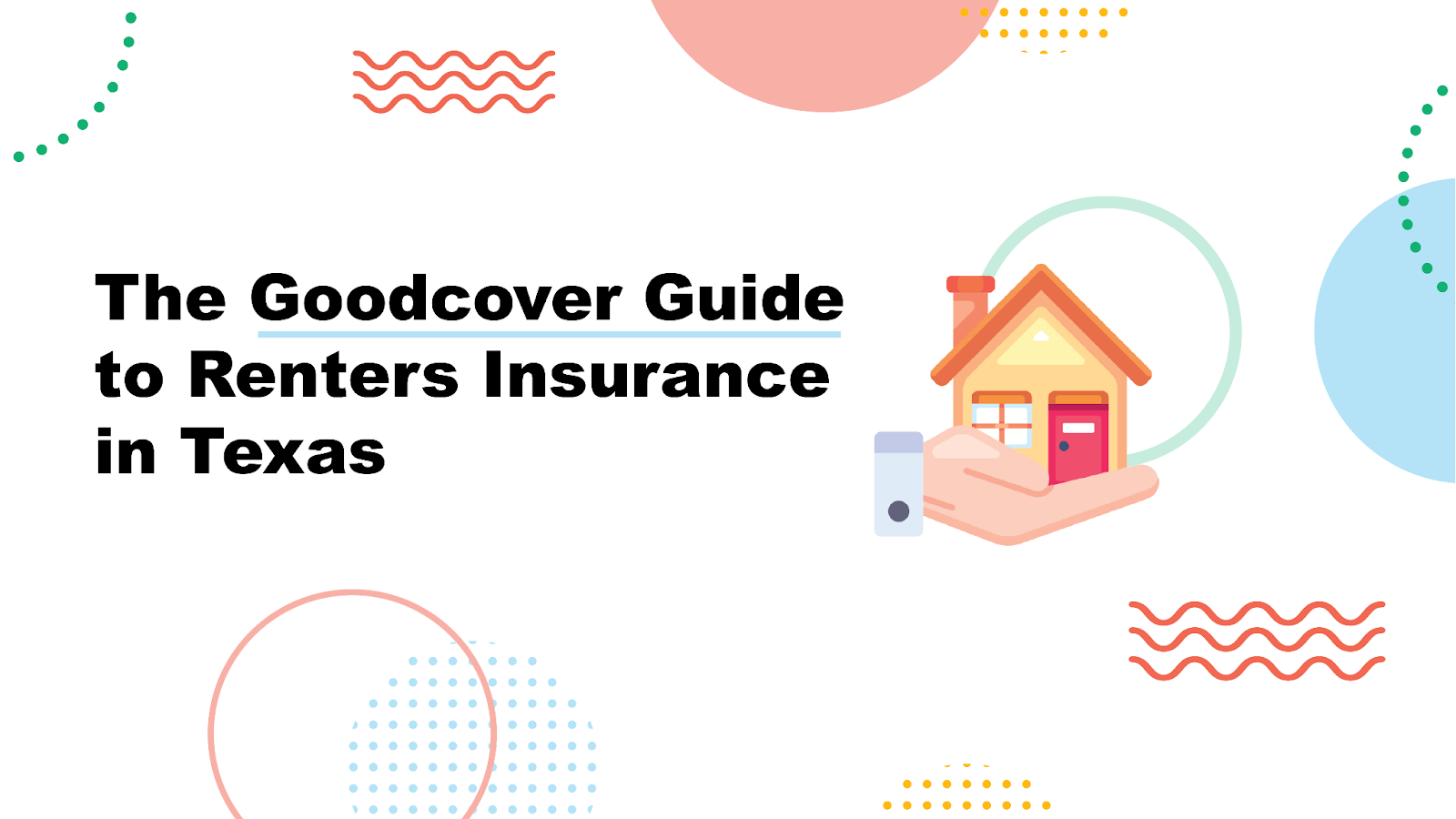 Texas is home to prestigious universities, delicious BBQ, and some of the best live music the country has to offer. The state truly has so much going for it – so it's no surprise that over 170,000 people have moved to The Lone Star State in the past year.
And with 40% of the population renting, new transplants and existing residents alike need financial protection for their belongings. After all, 83% of crimes reported to the FBI from Texas authorities relate to property crime, so it's a good idea to get insurance to protect yourself.
Many people don't know that renters insurance can actually be very affordable — and protect your finances. If you're short on cash, rental insurance adds financial protection for you and your guests in case of an accident or covered event.
The particulars vary by state and insurance policy. This guide covers what you need to know about renters insurance in Texas.

Is Renters Insurance Legally Required in Texas?
Average Texas Renters Insurance Cost
What Does Renters Insurance Cover in Texas?
What Does Renters Insurance Protect Against?
Renters Insurance — FAQs
Top Texas Renters Resources for Tenants

Is Renters Insurance Legally Required in Texas?
No, renters insurance is not legally required in Texas — but your landlord can still require you to have it. If they do, it's usually written into your lease agreement, and they may ask for proof of renters insurance when you sign your lease or pick up your keys.

Even if your rental doesn't require a renters insurance policy, it's still a good idea.

The 2021 record winter storm wreaked havoc all over Texas. First, Texans dealt with icy roads and power outages. Then came the burst pipes.

The burst pipes across Austin caused 325 million gallons of water (residents typically use 100 million gallons a day) to flow out of the system — right into homes. For renters and homeowners, that meant anywhere from $10,000 to $27,000 in damages.

According to the Texas Department of Public Safety, 652,940 property crimes occurred in Texas in 2020, resulting in over $2 billion losses. Only one-fourth of that value was ever recovered.

Looking at these staggering numbers, it's clear that renter's insurance in Texas is so critical. You can get reimbursed for your losses in an unforeseeable event like a burglary or burst pipe.


Average Texas Renters Insurance Cost
The Lone Star state is known for doing things big — Texas-sized. From barbecue platters to insurance prices, everything's bigger in Texas.

ValuePenguin shares that the average cost of renters insurance in Texas is $312 a year, well above the national average of $224.

Goodcover beats them all. With plans starting at just $5 a month, Goodcover customers will pay only $87 a year on average. Across a whole year, that's enough savings to see three Longhorns games — or $150.

Besides the already low prices, we're also designed with today's renters in mind. Goodcover uses precise assessments that overcome traditional risk biases – many of which have existed for decades – to ensure you get the best renters insurance rate out there. The result is that Goodcover Members save money with wholesale-priced plans for appropriately-sized coverage. Then, we pool Member premiums and take a flat fee for claims and operating costs. What's left over at the end of the year gets returned to you through our Member Dividend. In 2021, Goodcover returned 1.93% of the collected premiums to Members.


Do note that prices vary a lot — even between the same providers. Your age, location, claims history, and coverage can all impact how much you end up paying for your renters insurance coverage.

The best way to know what you'll pay is to visit www.goodcover.com and get a personalized renters insurance quote.

What Does Renters Insurance Cover in Texas?
When breaking down what renters insurance in Texas covers, there are three types of coverage: personal liability, personal property, and temporary housing.

Liability protection covers damage to other people's property (like your landlord's) or if a guest gets injured in your home.

Suppose a visiting friend trips on the corner of your rug — and goes crashing right through the window. Personal liability coverage will kick in after you reach your deductible. The insurance provider would pay for medical payments for your friend's trip to the doctor and help replace your landlord's broken window.

Personal property insurance comes into play in the event of a covered loss. It covers loss of most of your personal belongings up to your amount of coverage in the event of a covered peril — like fire or theft. However, it won't cover your car, which gets covered through your auto insurance.


Temporary housing coverage pays for your additional living expenses if your rental becomes unlivable and you need to relocate. This is also known as loss of use coverage.

Suppose your pipes freeze over in an extreme freeze. And once things start to thaw out, you realize you had a massive leak that flooded your apartment.

Personal property coverage would help you replace your soggy laptop, and temporary housing coverage would cover your expenses to stay elsewhere while your home gets repaired.

It's important to keep in mind that there are exceptions when it comes to covered property and protected perils. We break the coverage and exclusions down further in our coverage guide.
What Does Renters Insurance Protect Against?
Texas sees many weather extremes: tornados, ice storms, and wildfires.

Renters insurance in Texas covers much of the havoc those storms wreak: wind and hail damage, water damage, and the weight of crushing ice. Besides that, it also compensates for theft, vandalism, and riots. So whatever the year (or week) in Texas throws at you, there's a good chance it's covered – standard on every policy.

The primary perk of upgrading to our SUPERGOOD plan is accidental damage coverage. That means that if you happen to drop your phone kayaking in Lady Bird Lake — that's covered with SUPERGOOD coverage on electronics.
Renters insurance can do a whole lot, and with Goodcover, we make sure you don't have to pay an arm and a leg.

Renters Insurance — FAQs
Here are the answers to the frequently asked questions about renters insurance:

Do you need to add your landlord to your policy?
You need to add your landlord or property management company to your policy. While your name goes on the policy as the "named insured," the insurance provider adds the landlord as an additional interested party.

This way, your landlord can see the policy to verify your coverage limits but can't change the policy.  Your landlord may ask to be added to your insurance policy for verification purposes. The good news: Goodcover makes this easy to do during the joining process. However, you'll need to make sure you add your landlord in the proper area of your insurance policy so that they're able to see you're insured, but aren't able to make changes to your policy. This is known as adding an additional interested party.

Can you add your significant other to your policy?
Adding a partner is easy to do: Add them as another named insured on your policy so that they can make changes and are covered by the policy. If you and your significant other share finances and items in the home, this is a good idea. If you're a newly-moved-in-couple who doesn't have a lot of shared stuff yet, you can also consider getting separate policies and consolidating once you share more stuff.

This is a good idea if you already share finances and have several shared items in your apartment. Still, you can also get separate policies if you want.

Can you include roommates in your renters insurance policy?
Currently, you can't add roommates to your policy. They need to get their own renters insurance policy.  This helps avoid tricky situations with splitting premiums or shuffling coverage when a roommate moves out.

Top Texas Renters Resources for Tenants
At Goodcover, we're all about empowering our Members through transparent practices and education.

If you want to learn more about your rights and renting in Texas, we've compiled a few great resources to get you started:

Whether you're exploring your options or need help canceling your old policy, you can send your current policy to compare@goodcover.com to get a complete analysis of your renters insurance in Texas.
---
Note: This post is meant for informational purposes, insurance regulation and coverage specifics vary by location and person. Check your policy for exact coverage information.

For additional questions, reach out to us – we're happy to help.