Guide: Renters Insurance for College Students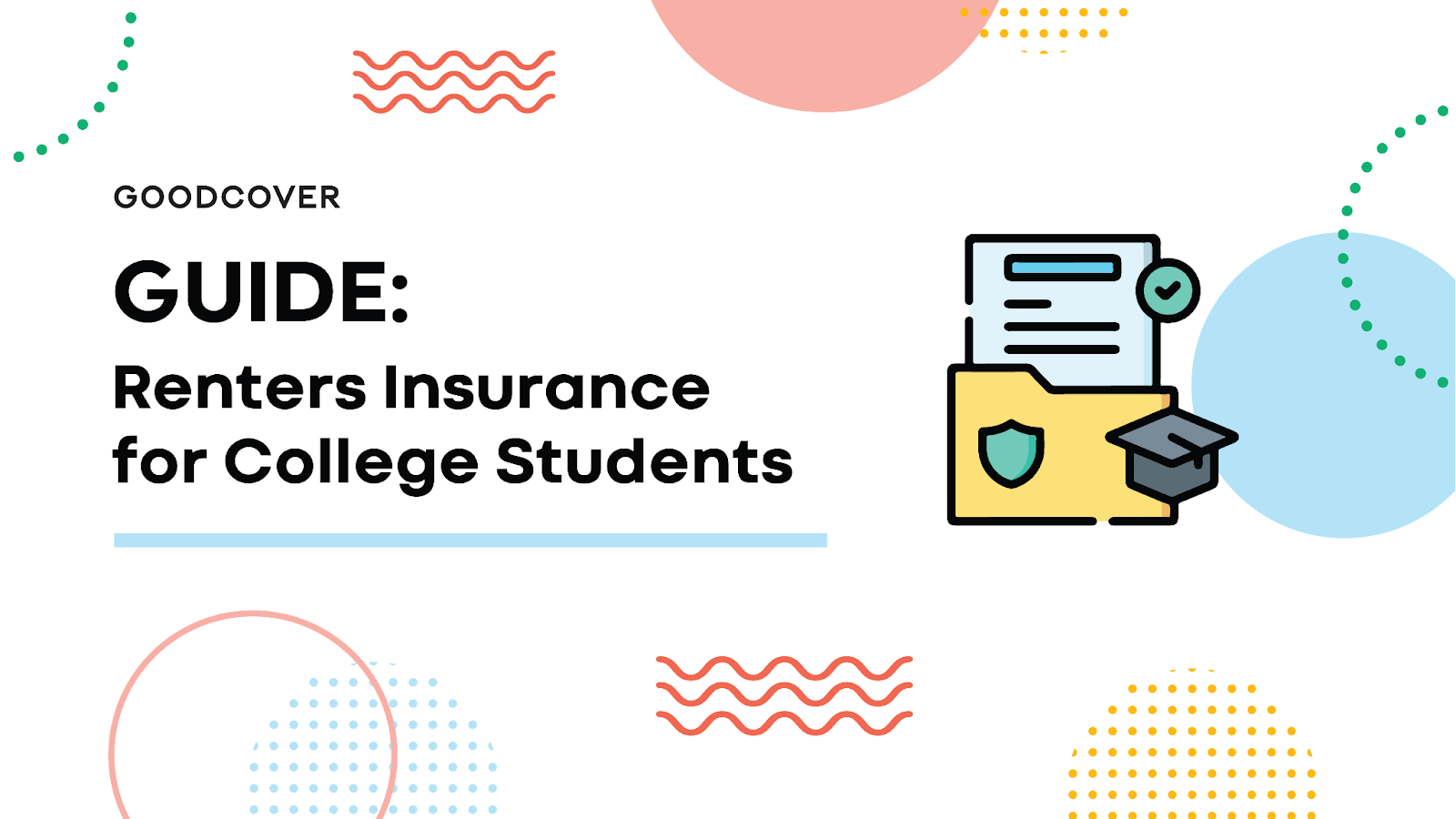 As a college student, you are often on a budget, which usually means cutting every expense that isn't absolutely necessary — including insurance.

While renters insurance may seem like overkill at first glance, it is critical to have. With coverage options starting at just $5 a month, renters insurance can fit most budgets. The protection these plans alone provide makes renters insurance worth your consideration as a college student.

However, your options are worth thinking through carefully, so let's dive deeper and explore renters insurance for college students.

Why Should a College Student Get Renters Insurance?
What Renters Insurance Covers
Who Renters Insurance Covers
Common Misconceptions
How Much Renters Insurance Do I Need?
Final Thoughts: Renters Insurance for College Students

Why Should a College Student Get Renters Insurance?

Your college years are associated with many great memories and unique experiences — but also with being broke.

It's understandable if you don't opt for additional financial protection like insurance because you're trying to save money as a first-time renter. You may not realize that renters insurance for college students can save way more money than you ever spend.

Since renters insurance starts at as little as $5 a month and can provide tens of thousands of dollars in coverage, it's a wise financial decision, especially if you don't have a lot to spare.

Perils can happen to anyone, and your insurance can protect you, your stuff, and your guests.

Let's say you're having people over for a party after midterms and someone slips on a spilled drink, resulting in a trip to the doctor. Your renters insurance can cover that. And if that drink accidentally spilled on your laptop on the way down, extended coverage can help you replace that, too.

What if you love your new off-campus apartment price but not so much the slightly sketchy location? Renters insurance covers your stuff in the event of a robbery or vandalism, too.


What Renters Insurance Covers

Renters insurance for college students pays for three primary things:

Your property
Other people and their property
Additional living expenses

So if a fire damages your items, sends your friend to the doctor, and leaves you with nowhere to stay, your insurance company can help pay for those situations after your deductible. Remember that these things are only covered when damaged or lost due to a covered peril.

There are exclusions to the coverage, such as what's typically covered through auto insurance, earthquakes, or floods.


Goodcover's policies cover your stuff inside and outside the home but won't cover accidental damage with our GOOD plan. Upgrade to SUPERGOOD coverage to ensure that we'll replace your stuff if it gets accidentally damaged.
The SUPERGOOD plan provides zero-deductible extended coverage for eligible categories like computers and other electronics. For example, if your post-midterm party goes awry and someone accidentally smashes your camera, SUPERGOOD will cover it if you've opted for it in the camera category. SUPERGOOD also kicks in if you knock coffee onto your laptop by mistake if you've selected it for the laptop category.
That said, SUPERGOOD will only pay up to $5,000 for a single item. If you want to cover individual items worth more than $5,000, you may want to consider additional protection.
Who Renters Insurance Covers

Renters insurance covers you and your belongings – roommates and their property are not included. Roommates can't share policies, and they can't protect their stuff under your coverage.

However, multiple people can take out policies for the same apartment, so your roommates can easily acquire their own coverage if they want to protect their things.

The only other entity your renters insurance policy might cover is your pet,as long as its breed or bite history doesn't exclude it. It's also important to note that renters insurance only covers damage your pet causes, not injury to your pet itself. For injury to your pet, it's a good idea to look into pet insurance.

Common Misconceptions

Here are a few of the most common misunderstandings we see when it comes to renters insurance for college students:

Renters Insurance is Expensive
Not true! Goodcover plans start at just $5 a month, which is one of the lowest rates in the industry. Plus, each year, we give money back to our members through the Member Dividend.

My Stuff Isn't Worth Enough to Insure
If it was worth buying, it's worth insuring! Even if you think you don't have a lot of stuff, what you have adds up fast. Counting just what you might have in your bedroom:

Just those four things add up to $2,414. Even if you got most of your electronics and furniture at a discount or second-hand, it's important to note that Goodcover pays you for their replacement value, so you get the current retail price for a new replacement.
That's My Landlord's Responsibility
If your landlord has property insurance, it won't cover your belongings or the safety of your guests. In some instances, you'll still be held financially responsible for damage to their property.

So it's essential to have renters insurance to cover all your bases.

I Don't Need Insurance Because My Parents Have It
If you aren't living in the same place as your parents, you may be covered if you're staying in on-campus housing in a dorm room, returning each break. In this case,  insurance would count you as a dependent. However, your parents' homeowners or renters insurance doesn't cover you in most other cases.

How Much Renters Insurance Do I Need?

In some cases, your landlord will require you to have a minimum personal liability coverage limit — usually around $100,000.
To determine how much personal property coverage you need, you should determine the value of all your personal belongings through a home inventory. That may take some time, but it helps determine if you have enough coverage.
Next, consider what you want insurance to cover. The standard insurance will protect your stuff and guests inside your home in the event of a covered peril, but if you want accidental damage, it's a good idea to upgrade.
For just a few extra dollars a month, you can add additional coverage that protects your items if you accidentally damage them. That small extra expense could end up saving you a ton later on.
Final Thoughts: Renters Insurance for College Students

Although you're often on a tight budget, renters insurance for college students is still vital to maintain. For a small monthly fee, you can protect your things and guests and avoid a situation where you might find yourself out thousands of dollars.
Once you determine your renters policy limits, it's easy to find coverage that works for you.
Protect your finances by getting a quote for Goodcover's renters insurance today.
---
Note: This post is meant for informational purposes, insurance regulation and coverage specifics vary by location and person. Check your policy for exact coverage information.

For additional questions, reach out to us – we're happy to help.