Goodcover Answers Frequently Asked Questions About Vandalism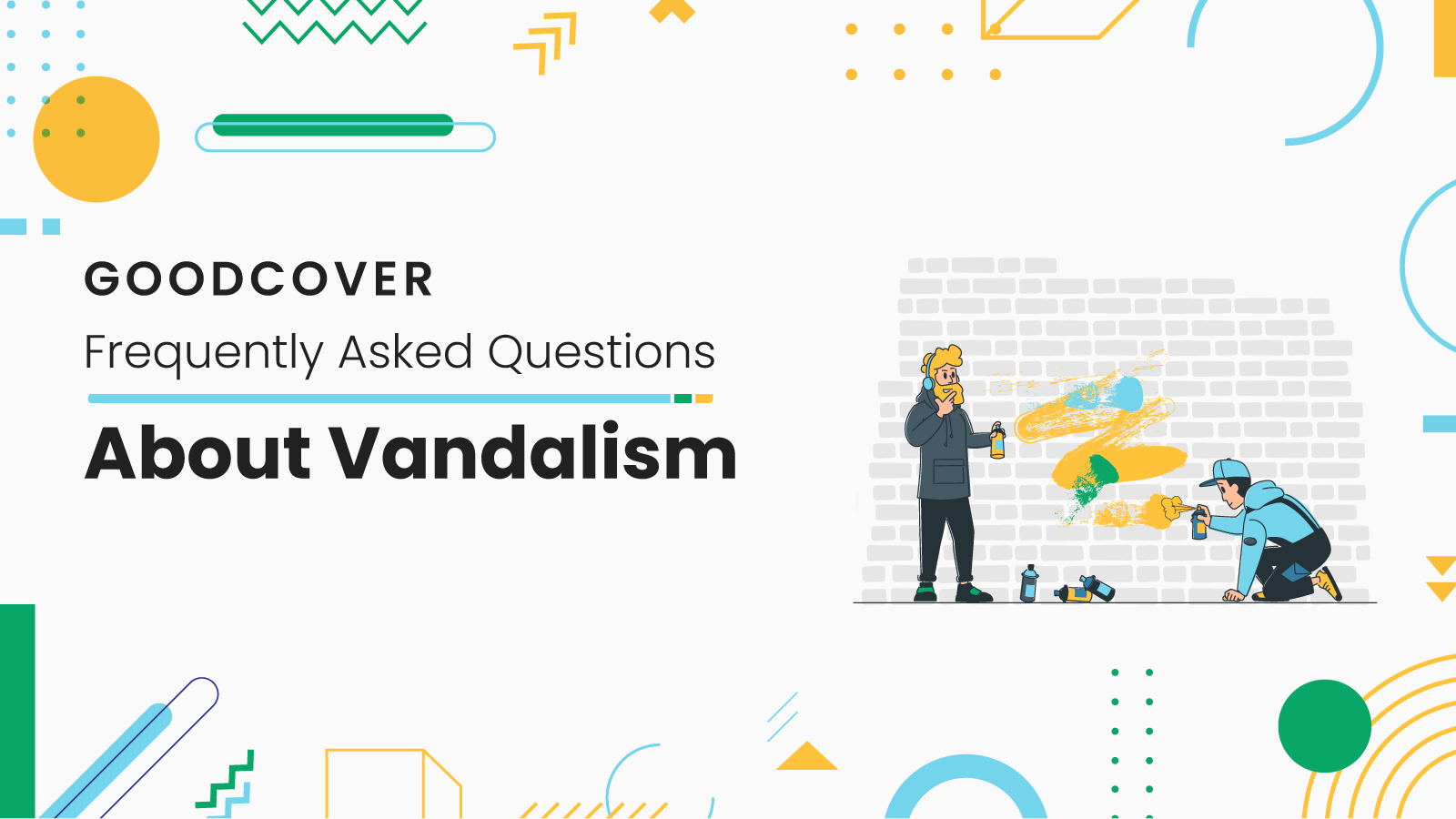 One of the most common renters insurance claims is vandalism.

There are run-of-the-mill vandalism cases, like car smash-and-grabs or broken apartment windows. Then there are the more extreme versions of vandalism, like this case on TikTok.  
In this instance, a person threw her boyfriend's belongings out of the window after he allegedly cheated on them. According to Statista, at least 4.6 million cases of vandalism and theft were reported nationwide in 2020.
The good news: your renters insurance policy offers personal property coverage against vandalism. But you should know a few key pieces of information about your coverage.
Here are the most commonly asked questions about vandalism and renters insurance - and their answers:

What is Vandalism?
Does Renters Insurance Cover Vandalism?
What Happens if You Don't Have Renters Insurance and You're Vandalized?
How Much Will Goodcover Pay for Vandalism Claims?
How Do I Make a Vandalism Claim?
Final Thoughts: Renters Insurance and Vandalism

What is Vandalism?
Vandalism refers to any willful or deliberate damage to private property. It includes defacement, trash dumping, breaking, and smashing personal property.
Here are some vandalism examples:
A thief breaks into your car and steals your personal belongings.
An intruder breaks into your home, smashes your appliances, and spills bleach all over your rugs and furniture.
Your parked bike gets its tires slashed
A brawl occurs inside your house and someone damages items in your kitchen.
Vandalism from Roommates and Partners
What about your roommate or significant other? Can they vandalize your property?
Sadly, yes. For example, in the TikTok video we referenced earlier, a woman threw her boyfriend's items – including a PS5, a flat-screen TV, and a mirror – out of their apartment window after his alleged cheating.
Suppose he shared a renters' insurance policy with her. Would their insurance provider cover that damage? No, because technically, it's his policy too. In fact, we don't recommend sharing a renters insurance policy with anyone who isn't a legal spouse.
Does Renters Insurance Cover Vandalism?

The short answer? Yes. Renters insurance covers vandalism.
Goodcover has vandalism as a "named peril" within its renters insurance policies, which means it's covered. Your claim must meet three requirements for the damage to fall under vandalism:
Vandalism Requirement #1: It Must Be Your Property
First, the property vandalized must be personal. Suppose you rent a furnished apartment, and everything in it belongs to your landlord. If someone breaks in and damages the white fur carpet, your renters policy won't cover that damage. Instead, their landlord insurance will cover that.
But if the furnishings and appliances within your apartment belong to you, your insurer will cover the damages.
Renters insurance covers you for the parts of the rented property that fall under your responsibility. In other words, if someone paints graffiti on the outside wall of your house, your renters policy won't cover that.
It also won't cover a broken window in your home since that falls under your landlord's insurance policy.
Conversely, if someone breaks into your car and steals your iPad, laptop, or other personal property, your renters policy will cover these items. However, damage to your car's windows, windshield, or doors will fall under your car insurance.
Vandalism Requirement #2: The Damage Must Be Malicious
If an intruder swings a baseball bat at your flat-screen TV and other house appliances, you can file a vandalism claim.
But if your child spills coffee on your MacBook while watching Netflix or your partner accidentally knocks it off the table while cleaning, that isn't vandalism. That's an accident, so it doesn't fall under the definition of vandalism. Accidents are covered under Goodcover's SUPERGOOD plan.
Similarly, if you allow someone to destroy your property, that doesn't count as vandalism. For example, if your friend tries to smash your iPhone with a hammer for a YouTube video, you can't make a successful vandalism claim unless you explicitly asked them to stop, and they didn't.
Vandalism Requirement #3: Damage Must Be by Someone Your Policy Doesn't Cover
Suppose your significant other throws your stuff out the apartment's window, including your valuable PS5. If you've named your significant other in your renters policy, your insurer won't cover the damages, even though they recorded and uploaded their vandalism to TikTok.
The only way your renters insurance would still cover this type of vandalism is if you file formal charges against your partner. That's a major headache, so letting your roommates or partners get separate renters insurance policies from yours is best.
All Goodcover policies name vandalism as a covered loss alongside theft and riots. No matter which Goodcover plan you choose, you'll enjoy comprehensive coverage for vandalism.

Perks of SUPERGOOD Coverage for Vandalism Claims

Goodcover also offers a SUPERGOOD plan for extended coverage on certain categories of items, like computers and other electronics.
Here's what you'll enjoy with SUPERGOOD coverage:
No Deductible: You don't have to pay any deductible on your upgraded item categories with the SUPERGOOD plan. However, you'll still pay the standard deductible for other claims before your coverage kicks in.
Accidental Damage Coverage: Take the example above where your child spills coffee on your MacBook. The SUPERGOOD plan in the computer category gives additional coverage against accidental damage.
What Happens if You Don't Have Renters Insurance and You're Vandalized?
If someone vandalizes your place and property and you lack a renters insurance policy, you'll have to pay for all the damage out of your pocket. That can be expensive, especially if you lose valuable items like jewelry, art, collectibles, or important documents.
You may also be at greater liability for other perils. For instance:
Insurers may charge you higher premiums for any future renters policies.
You may have to pay considerable legal fees, medical bills, and personal liability claims for any bodily injury or property damage during the vandalism.
You may have to pay for temporary housing if your house becomes uninhabitable due to water damage from vandalism.
How Much Will Goodcover Pay for Vandalism Claims?
Your Goodcover renters policy will cover damage caused by vandalism up to your policy's personal property and liability coverage limits.
If your home is so severely damaged that it's uninhabitable, loss of use coverage takes over your additional living expenses until you can return to your home.
Another factor determining your payout is how your insurer assigns value to your valuables — ACV or RCV. Actual cash value (ACV) is the price of the used item —  the price you may get if you were to sell it on eBay.
Replacement cost value (RCV) is the amount it'll take to replace that item — the current market price for the item if it were new. Since Goodcover offers RCV coverage, you always receive the full value of your personal belongings.
How Do I Make a Vandalism Claim?
Here are the steps to filing a claim with Goodcover:
List all the damaged, destroyed, or lost items during the vandalism. Having a detailed home inventory is of great help during this step.
Get a police report from your local law enforcement agency.
Call 855-231-GOOD (4663) and select prompt 1. You will be routed to North American Risk Service (NARS). They are our third-party administrator, and they manage all Member claims.
Provide supporting documents and fill out any forms accurately for a speedy response.
Final Thoughts: Renters Insurance and Vandalism
Most renters insurance policies cover vandalism as a named peril. But your vandalism claim is only valid if someone – who isn't on your policy –  maliciously damages it.
To prevent a loss like that on the TikTok video, ensure your roommate or partner has a separate renters insurance policy from yours.
A Goodcover renters insurance policy covers you when the unexpected happens. We also offer coverage for temporary housing (loss of use) and coverage against accidental damage. We're designed with renters in mind, and we return any unused premiums to you annually through our Member Dividend.
Switch to modern and cooperative insurance with fair rates — get a Goodcover quote.
---