Does Renters Insurance Protect You From Porch Pirates?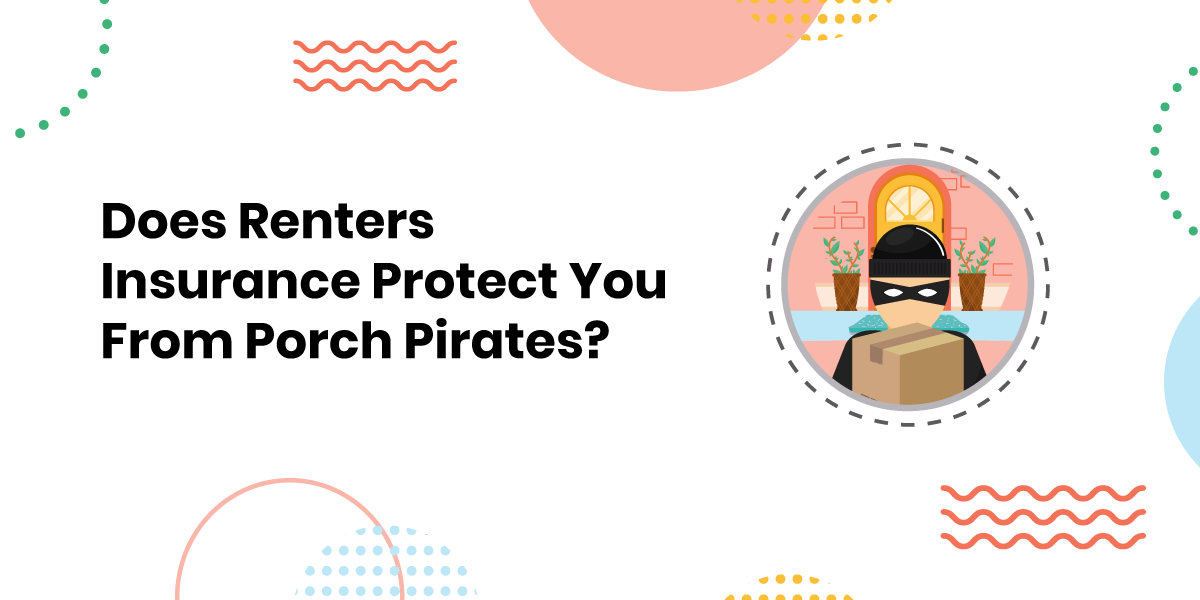 Online shopping has made it easy for everyone to get pretty much anything delivered right to their doors, often in two days or less.
Unfortunately, some people see those packages on your doorstep as an opportunity to score free stuff. According to a 2022 Safewise and Vivint survey, thieves swiped an estimated 260 million packages from porches in the past 12-month period. These so-called "porch pirates" snatch your delivery before you even get a chance to bring your purchase inside.

Some people, like YouTuber and engineer Mark Rober, create elaborate glitter bombs in fake packages to teach porch pirates a lesson. But for the rest of us, there's renters insurance.

Keep reading to learn if renters insurance covers theft of packages and what you can do to protect your purchases and deliveries.

Here's what you'll learn:
What's Covered Under Personal Property
How To File a Claim for a Stolen Package
Alternatives to Filing a Renters Insurance Claim
Preventing Stolen Packages
Final Thoughts: Does Renters Insurance Cover Stolen Packages?

What's Covered Under Personal Property
Personal property coverage helps you cover the cost of replacing any of your furniture or personal belongings if they're stolen or damaged by a covered peril. Covered perils include risks like fire, water damage, windstorms, and limited types of mold.

If you experience personal property damage or stolen items, your insurance company will reimburse you for the value of the item minus your deductible and up to your coverage limits.
Insurers can use one of two ways to estimate the value of your reimbursement: actual cash value (ACV) or the replacement value.
Actual cash value reimburses you for the value of your item minus its depreciation. On the other hand, replacement value gives you enough money to purchase a new item. At Goodcover, our policies use replacement cost coverage when reimbursing for personal items.

Does Renters Insurance Cover Stolen Packages?
The typical renters insurance policy covers theft, including packages stolen from your doorstep, porch, or entrance. However, depending on your deductible, going through the claims process for stolen items isn't always worth it.

When Should You File a Claim for a Stolen Package?
If the monetary value of your package is lower than your deductible, you won't receive any reimbursement for the package. Your deductible is the amount you pay before your insurance company provides coverage.
So, let's say your deductible is $500, and you order an Instant Pot from Amazon that costs $120. You can file a claim for the lost item, but you won't receive a payout.
However, if your package contains more valuable items like a $2,000 Hydrow Rower for your gym and a band of land pirates manages to get it off your porch before you get home, you could file a claim and receive $1,500 from your insurance company.

According to Goodcover's Head of Member Experience Ryan Moorhart, "The deductible on a renters insurance policy is usually at least $250. If you're regularly receiving packages to your home under that value, it's a good idea to take preventative measures to make sure your packages don't get stolen. Always review tracking information from the shipper so you know when your packages should arrive and do your best to intercept them."

Consider the effects of filing a renters insurance claim for a stolen item, even if it's a covered loss.
Filing too many claims in a short period tells your insurance provider that you're a high-risk client, which could result in your insurer canceling your renters insurance policy or increasing your rates.

Ideally, you only want to file one claim on your renters policy in a five-to-ten-year period.
"If you aren't sure if you should make a claim, start by taking an inventory of your loss. Then, compare that to the cost of increased premiums over the remainder of your plan. You can always consult Goodcover Member Experience to discuss whether or not it's worth it to make a claim," says Moorhart. "In general,  it's better to use your renters insurance coverage if you experience a significant loss, such as damage from a fire or theft from a break-in."

How To File a Claim for a Stolen Package

Some renters insurance companies like Goodcover offer zero-deductible plans, which means you'll get full reimbursement on any approved claim.

If you have a low deductible, you may file a claim if someone steals a package containing high-value items. When filing a renters insurance claim for theft, you must also have a police report.

It can take the police department two to three weeks to finalize the report. You can, however, file your insurance claim before you have a police report returned. Understand that it's best to include at least a police case number so claims can quickly resolve your situation.

Once you've contacted the police, you can file a claim with Goodcover using our partner service, the North American Risk Services (NARS) claims specialist team.

Here's how to file a claim:
Gather your supporting documents, such as your policy and police report.
Call Goodcover at 1-855-231-4663 and selection Option 1.
You'll be connected with a claims agent.
Your agent will guide you through the process and ask for the information on your documents.
You can monitor your claim in your Goodcover member dashboard.

Alternatively, you can email your claim information to reportaclaim@narisk.com by putting "Goodcover Renters Policy (Your Policy Number)" in the subject line.

In the body of the email, you'll provide the first notice of loss information, including the time and place of damage and how it happened. After sending the email, you'll receive a confirmation within 24 hours, and an adjuster will be assigned to your claim.
Alternatives to Filing a Renters Insurance Claim

Filing a renters insurance claim should be a last resort when it comes to stolen packages. The good news is that several other resources can help you reclaim money lost on a stolen package.
Contact the Seller
If you come home and believe someone has stolen a package you ordered, you can contact the seller to verify the box was delivered. If someone stole it, many e-commerce businesses like Amazon might replace the item at no cost to you.
Check with Neighbors
A missing package doesn't always mean stolen. It could have been delivered to a different address. Check with neighbors to see if someone has received your package or taken it inside for safekeeping until you return. If you live in a bigger apartment complex, your package may have been sorted to the wrong part of the delivery room.
File a Claim with the Delivery Company
Package carriers such as UPS, USPS, and FedEx all have claims sites where you can report stolen packages and request financial reimbursement. If you go this route, it can still be helpful to file a police report to prove the theft.

Even though you have several options for recovering money lost on stolen packages, you can reduce the risk of theft by focusing on prevention.
Preventing Stolen Packages
While it's nice to know that your renters insurance policy will cover stolen deliveries, it's still ideal to avoid dealing with package theft altogether. By taking action to prevent theft, you can avoid making claims on your insurance that could end up increasing your rates.

Here are some of Moorhart's tips to prevent the theft of your delivered items:
Use package tracking to pick up items as soon as they're delivered.
Opt to have your packages delivered to secure Amazon Lockers or Hubs.
Purchase a porch lock box and provide the code in your delivery instructions.
Require signature upon delivery if there's usually someone at home during the day.
Install a video camera and make it clear that you have a security system to deter theft.

Final Thoughts: Does Renters Insurance Cover Stolen Packages?
Whether it's an Instant Pot or a Peloton, your renters insurance will cover stolen packages.
But before you file an insurance claim, it's best to see if the seller or the delivery company will reimburse you for your stolen item.

Too many claims on your history can increase your rates or make you uninsurable. If you're looking to lower your renters insurance rates, get a quote from Goodcover today for affordable, straightforward renters insurance you can trust.

---
Note: This post is for informational purposes; insurance regulation and coverage specifics vary by location and person. Check your policy for exact coverage information.

For additional questions, reach out to us – we're happy to help.