Bike Theft and Renters Insurance – What You Need to Know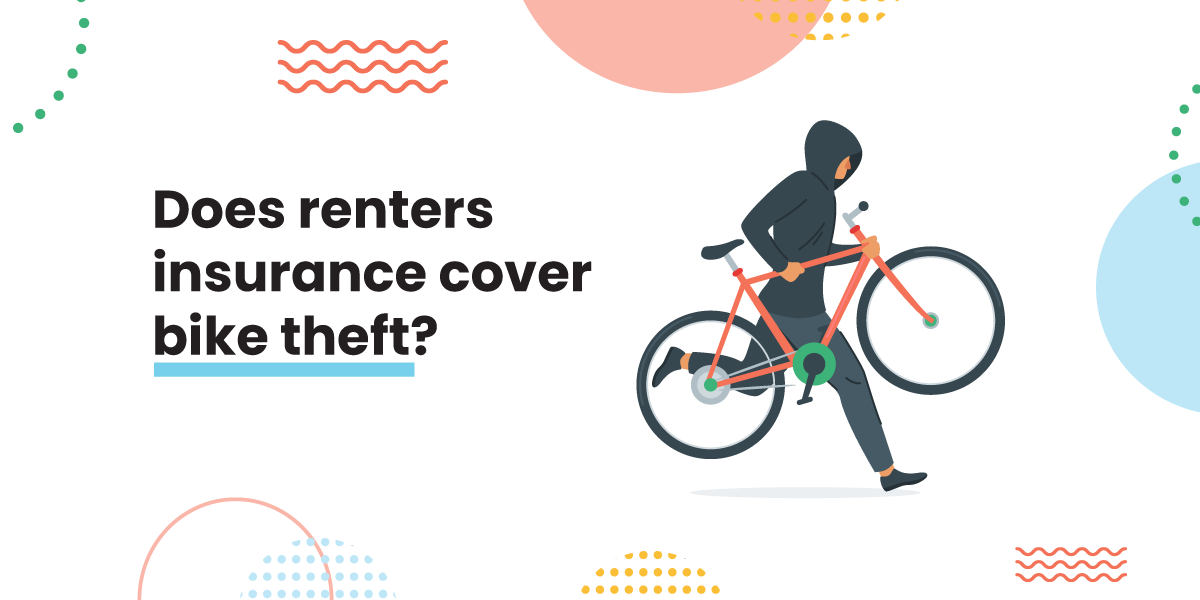 Have you ever had your bicycle stolen?

If you have, you're not alone. According to Project 529, the national bike registry, 2 million bikes go missing in North America in any given year – meaning a bike gets swiped every 30 seconds, on average.

If you have renters insurance, you probably know that it covers your bicycle if it's stolen from your apartment complex or your storage unit. Does renters insurance cover bike theft if someone steals your bike outside of your favorite cafe, though? Are you covered if you bring your bike to a music festival and it gets stolen?

With Goodcover, you're covered – and that coverage is standard on every policy.

Keep reading to learn:

Does Renters Insurance Cover Bike Theft?
How To Make a Claim on Bicycle Theft Insurance
Final Thoughts: Does Renters Insurance Cover Bike Theft?


Does Renters Insurance Cover Bike Theft?

First things first: register your bike. Project 529 helps you register or report a found bicycle. We highly recommend registering your bike. However, you can still make a claim on your renters insurance policy if someone steals your bike from your apartment building or a public bike rack, even if your bike isn't registered. Renters insurance offers coverage for your damaged or stolen items, so your bike's included.
What Qualifies as a Bike?
Most basic renters policies provide insurance coverage for traditional bicycles, which don't have motors or engines.

However, if you have an electric bicycle (e-bike) or motorcycle, you may need to check with your insurance company to see if you're covered.

Here's the breakdown:

Goodcover renters insurance covers bikes and e-bikes (when used legally – in many states, that means licensed and registered in addition to how you use the bike), but we can't guarantee that's the case with other providers.


The government divides e-bikes into three classes. Class 1 and 2 have motors that provide a maximum speed of 20 MPH and are allowed in bike lanes and anywhere else you can use a traditional bike.

Class 3 e-bikes offer pedal-assist motors until the bike reaches 28 MPH, and due to their high speed, they are not allowed on most bike lanes and bike paths.

Before purchasing an e-bike, check if your state qualifies a motorized bike as a bicycle or a motor vehicle. Many states consider Class 3 e-bikes a motor vehicle, but some also include Class 1 and 2 e-bikes in that category, which means you need a license and registration to use them.

Unlike many other providers, Goodcover renters insurance provides coverage for e-bikes, including those in Class 3. If you have a Class 3 e-bike insured with Goodcover, your policy covers theft from the insured location. However, your Goodcover renters policy liability coverage only applies to Class 3 e-bike use in limited situations such as off-road use.

The property and liability coverage in your renters insurance does not extend to most motorized vehicles, especially if the bike requires registration for use on public roads – that's why auto insurance exists. If you want coverage for cars, motorcycles, ATVs, and motorized scooters, you'll need to purchase comprehensive auto coverage.


Personal Property Coverage and Bikes
Personal property coverage compensates for any financial loss incurred if your bike is stolen or damaged by a covered peril.  Covered perils include vandalism, theft, fire damage, and more.


If someone steals your bike, your insurer will pay you the value of your bike minus your deductible. Bike theft claims are also subject to the personal property coverage policy limits. You can also claim partial theft on your renters insurance for stolen parts, such as a wheel, seat, or bike lock.


Many insurance companies cover bicycle theft, even if the thief swipes your bicycle from a public place. However, the amount of coverage offered for theft from a public area might be lower, such as 10% of your total personal property limit.

Check with your insurance agent to see how much you can claim if your bike is stolen somewhere other than your rental property. If you're still not sure, contact Goodcover, and we'll review your current policy.

Personal Liability Coverage and Bikes
If you injure another cyclist or a pedestrian while riding a bike, you can use your personal liability coverage to pay for medical expenses or property damages.

However, most renters policies do not cover uninsured/underinsured motorist claims; this coverage is included in auto insurance policies instead.

Uninsured/underinsured motorist coverage protects you if a driver with no insurance or a low liability limit hits you with their car.
When To Consider a Separate Bike Insurance Policy
Although your renters policy covers your bike, there are limits. In particular, there are instances when you might consider purchasing a separate bike insurance policy for additional coverage, such as:

If you have an expensive bike ($1,000+) – you might want additional coverage.


If you want coverage for accidental damage to your bike (e.g., if you crash or it's hit by a car), then you'll need to purchase either a coverage upgrade on your renters policy or a separate bike insurance policy.


If you use a bike to get around and don't have auto insurance, you can purchase bicycle insurance that includes uninsured/underinsured motorist coverage.


If you use your bike for races and competitions – most renters insurance policies do not cover these events.

How To Make a Claim on Bicycle Theft Insurance

To receive payment for bike theft or damage, you need to make a renters insurance claim.
Here are the steps to follow to make a claim on your renters insurance:

File a police report – Include all details such as where your bike was stolen (or damaged) and when. Then, when you finish filing the report, request a copy to include it in your insurance claim.
If you registered your bike with Project 529 (again, we highly recommend it!) - report your bike stolen on their website.
Take pictures (if filing for damage or partial theft) – Take a picture of your damaged bike or bike with stolen parts.
Contact your claims department – Call your renters insurance provider and speak with a claims representative to help you finish the claims process. Alternatively, you can file a claim online.
Relax. If you have Goodcover, we'll settle your claim as quickly as possible. The amount you receive depends on the bike's value and your policy terms.


How Much Does Insurance Pay Out for Bike Theft and Damage?
Most renters insurance companies use the actual cash value to calculate your settlement. In other words, your insurance company pays you based on your bike's current value.

If you've got Goodcover, you've got Replacement Cost Coverage, which means we'll pay you enough to purchase a new bike once your claim is approved.

Here's an example: Let's say your $800 bike gets stolen. If you have replacement cost coverage, we'll pay out $800 once your claim is approved so that you can buy a new bike of similar kind and quality. With actual cash value coverage, you'll get the value of your bike at the time it was stolen. In other words, if your $800 bike got stolen, but it's a few years old, your reimbursement amount takes depreciation into account, and you'll get a fraction of what it was once worth.

Final Thoughts: Does Renters Insurance Cover Bike Theft?
In general, yes, it does.  Renters insurance is an affordable option that protects you and your personal property. Whether you bike a few times a year or every day, you'll know Goodcover covers you.

Discover affordable, user-friendly renters insurance for a better rate. Get a free Goodcover quote now.
---
Note: This post is meant for informational purposes, insurance regulation and coverage specifics vary by location and person. Check your policy for exact coverage information.

For additional questions, reach out to us – we're happy to help.