Goodcover's Water and Sewer Backup Coverage: How It Works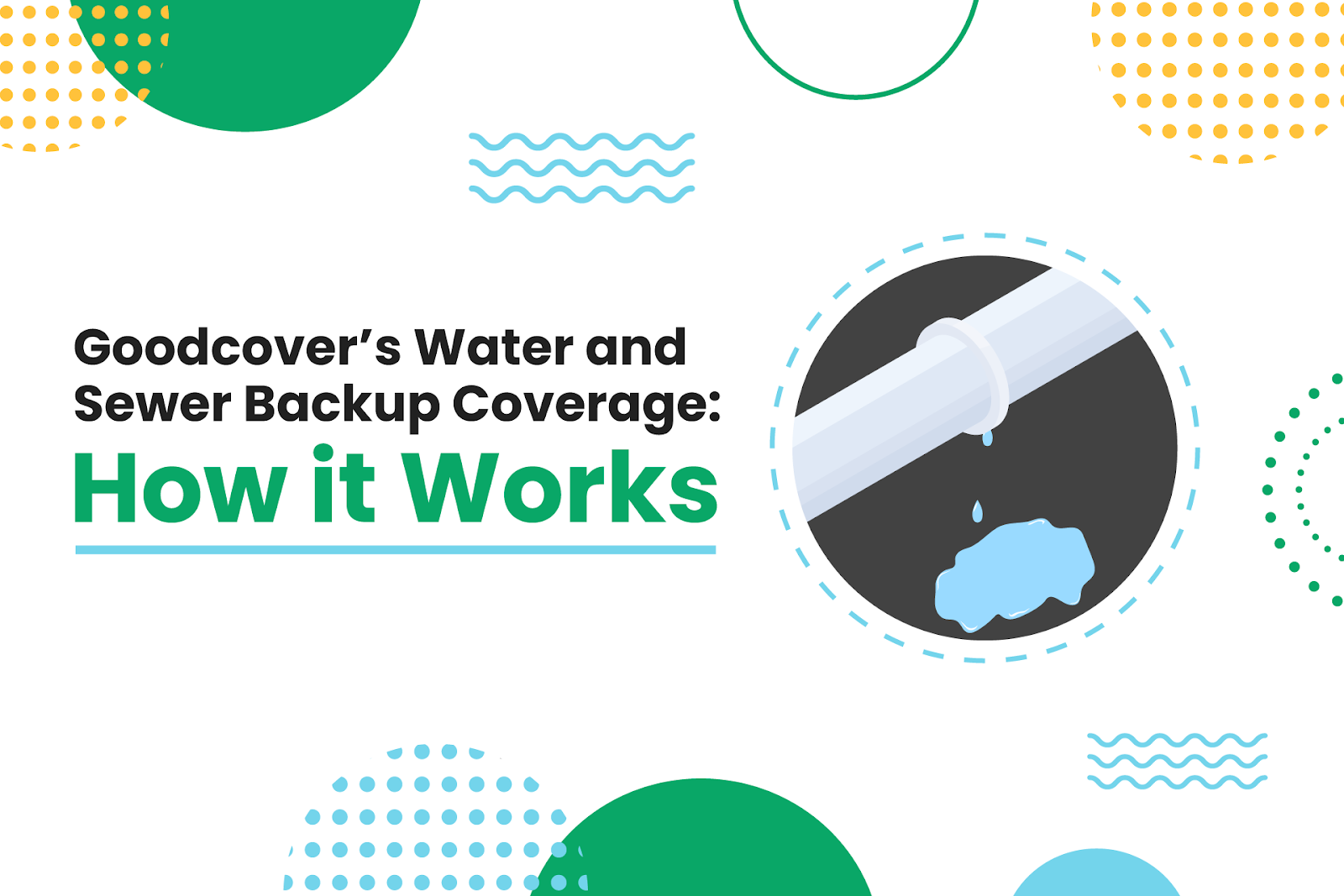 You wake up one day, and when you set your feet on the floor, you realize something's off. The floor's wet, and there's a putrid smell in the air. You rush to your toilet only to find the unthinkable has happened — a sewer backup incident and your toilet is overflowing with contents you thought were long gone.  Cue the gagging. 🤢

Nobody likes these surprises, but they are more common than you think. The EPA estimates that between 24,000 and 75,000 sanitary sewer overflows happen yearly. That can cost you thousands of dollars in out-of-pocket costs.

But one often overlooked insurance add-on (or endorsement) offers coverage if you incur such a loss in your rental unit. Its name? Water and sewer backup coverage.

Read on to discover:
What Is Water and Sewer Backup Coverage?
What Are the Causes of Water and Sewer Backups?
What Is Covered by Water and Sewer Backup Coverage?
Things Water and Sewer Backup Coverage Doesn't Cover
Tips on Making a Water/Sewer Backup Claim
Final Thoughts: Water Sewer Backup Coverage and How It Works
What Is Water and Sewer Backup Coverage?
Water and sewer backup coverage pay to replace or repair any damage to personal property that results from a blockage in the sewer systems, septic tank, or drainage systems. It can also include temporary housing coverage if the damage makes your apartment uninhabitable.
Although standard renters' insurance policies like Goodcover's cover losses from various types of water damage, water and sewer backup coverage is different. Standard policies don't cover water backup damage by default.
But here's the good news: Adding water and sewer backup coverage to your standard policy is easy.
It's also pretty affordable, which is another advantage.

Here's an example of what your Goodcover quote may look like with the water and sewer damage add-on. The prices below represent the total amount you'd pay each month for renters insurance:
Not too shabby, right?
You can always adjust your water backup insurance upwards in $5,000 increments, subject to your personal property limits. If you're in California, you'll receive a minimum coverage of $5,000 that you can adjust upwards to $75,000 but with a maximum personal property limit.
What Are the Causes of Water and Sewer Backups?
Water and sewage backups have plenty of causes, but here are the most common:
Clogged Pipes
Water pipes in your apartment can clog up for plenty of reasons. For instance, if your landlord does not maintain your water pipes regularly, you may have clogging issues.
Pipes may also clog if you flush non-biodegradable materials like diapers and paper towels down your toilet or insoluble food items down your kitchen sink. If you catch a clog early, you may avoid worse problems up ahead.
External Water
Suppose there's flooding outside of your apartment building. A storm surge and water overflow can cause a sewer backup. Besides that, failing to plug in your washer hookup properly may cause water to flood your house.
Broken Sump Pump
A sump pump failure can cause a backup in your water systems. Besides, you may deal with sump pump overflow problems if you live in an aging apartment.
Tree Roots
Tree roots can grow into your sewer pipeline system. They can bend or break pipes and cause a sewer backup.
What Is Covered by Water and Sewer Backup Coverage?
Adding water and sewer backup coverage to your policy will yield the following benefits:
Coverage for Personal Items
The add-on offers coverage for personal items — on top of the coverage provided by the standard Goodcover renters' insurance policy. Personal property includes clothes, computers, smartphones, tablets, furniture, art, and collectibles.

You can also take advantage of Goodcover's coverage if water damage from sewer backup causes your scooter or e-bike to stop working.
Temporary Housing or Loss of Use Coverage
If the sewer backup is excessive and you can't comfortably stay in your apartment, it'll likely result in additional living expenses. These are expenses you incur above and beyond your regular living costs.
Goodcover will cover your temporary housing expenses until your place has been repaired and cleaned or you move into a new apartment. These include:
Food expenses, like eating out
Public transportation to school or work
Fuel costs and parking fees
Boarding your pets
Replacement Cost Value Coverage
Goodcover will replace all your lost or damaged items at retail cost, also known as Replacement Cost Value (RCV). That means you'll receive compensation that covers the repair or replacement of your items without an added financial burden on you.
Let's say your $1,500 MacBook got damaged when the sewer backup happened. After filing the claim, Goodcover will reimburse you for the full retail price of the MacBook. The only cost you'll have to pay is your insurance's plan deductible amount.
To expedite the claim for water and sewer backup coverage, you'll want to prove or "substantiate" your claim. We'll look at that later in this guide.
Things Water and Sewer Backup Coverage Doesn't Cover
Some things fall out of our water and sewer backup coverage add-on. Let's look at them:
Repairs and Maintenance
Goodcover doesn't cover the repair and maintenance of burst pipes, sewer lines, septic tanks, or damage caused to your apartment building by water or sewer backup. That's why your landlord has insurance on the property.
You're not responsible for making any repairs to your apartment or hiring a plumber. A landlord's policy takes care of repairs and replacement of related equipment.
Certain Geographic Locations
Water and sewer backup coverage aren't available everywhere. Most areas prone to flooding may not have this type of coverage.
If you're in such an area, you may need insurance against flood damage, which Goodcover doesn't offer. You may have to get a separate flood insurance policy from the National Flood Insurance Program.
Check with us and find out more about exclusions and if this coverage endorsement is available in your area.
Tips on Making a Water/Sewer Backup Claim
As hinted above, the best way to get your claim paid is to substantiate your claim correctly. You must represent your claim in the best way possible.
Here are some tips on how to do that:
1. Call Your Insurance Provider ASAP
Contact your insurance company as soon as possible. For them to pay out your claim, you must inform them about the loss within the period stated in your policy. Ensure you have your policy number and details about the water or sewer backup incident before reaching out.
2. Complete Claim Forms With Your Insurance Agent
Make sure to file a claims report that includes the incident's details. Be as thorough as possible — leave nothing out. Document everything, including the extent of the damage on each item.
You can always fill out the form yourself if you have a few minor losses. For significant losses, you can ask your insurance provider for help. They usually send in an agent to inspect and document the damage.
3. Document Your Claims
Before you begin cleaning up or salvaging anything you can from the messy flood of backed-up water, take clear photographs and videos of the damage.
Ensure you zoom in to capture the damage on your items as clearly as possible. Moreover, take time and document all damaged items to receive adequate compensation for your losses.
If water backup made your bathroom rug and some of your clothes wet, your insurer will probably not cover them as you can let them air dry. However, water can damage any electrical appliances you keep on the floor — always check.
Another way to prepare for future claims is to make an inventory of everything in your apartment. That way, you can have a list and "before" and "after" pictures of personal items you'd like to repair or recover.
4. Save Your Receipts
If your loss is so extensive that you need temporary housing, keep receipts of any expenses you incur above your average spending.
Suppose you're staying at a hotel or need to buy pre-cooked meals. Your insurer will reimburse you for anything above ordinary expenses up to your coverage limit.
5. Remain Accessible to Your Insurer
In case your insurer, agent or claims adjuster needs more details about your claim, be accessible. Answer any questions and concerns they may have about your claims. Being easily reachable expedites your claims process and gets you paid faster.
Final Thoughts: Water Sewer Backup Coverage and How It Works
Backups are more common and destructive than you may think. For that reason, water and sewer backup coverage can be a valuable addition to your renters' insurance policy. It can cover damage to your personal property and is pretty affordable.
Just remember to document everything with care to have a smooth claims process. Fill in your claim form with as much detail as possible.
Also, provide clear photographs of damaged personal items. You may have to zoom into some photos as well. Insufficient documentation may cause your insurer to delay or reject your claims unless you substantiate them properly.
With the right coverage and documentation, you'll be right as rain in no time.
---
Note: This post is for informational purposes; insurance regulation and coverage specifics vary by location and person. Check your policy for exact coverage information.

For additional questions, reach out to us – we're happy to help.
More stories