5 Simple Tips to Combat Renters Insurance Inflation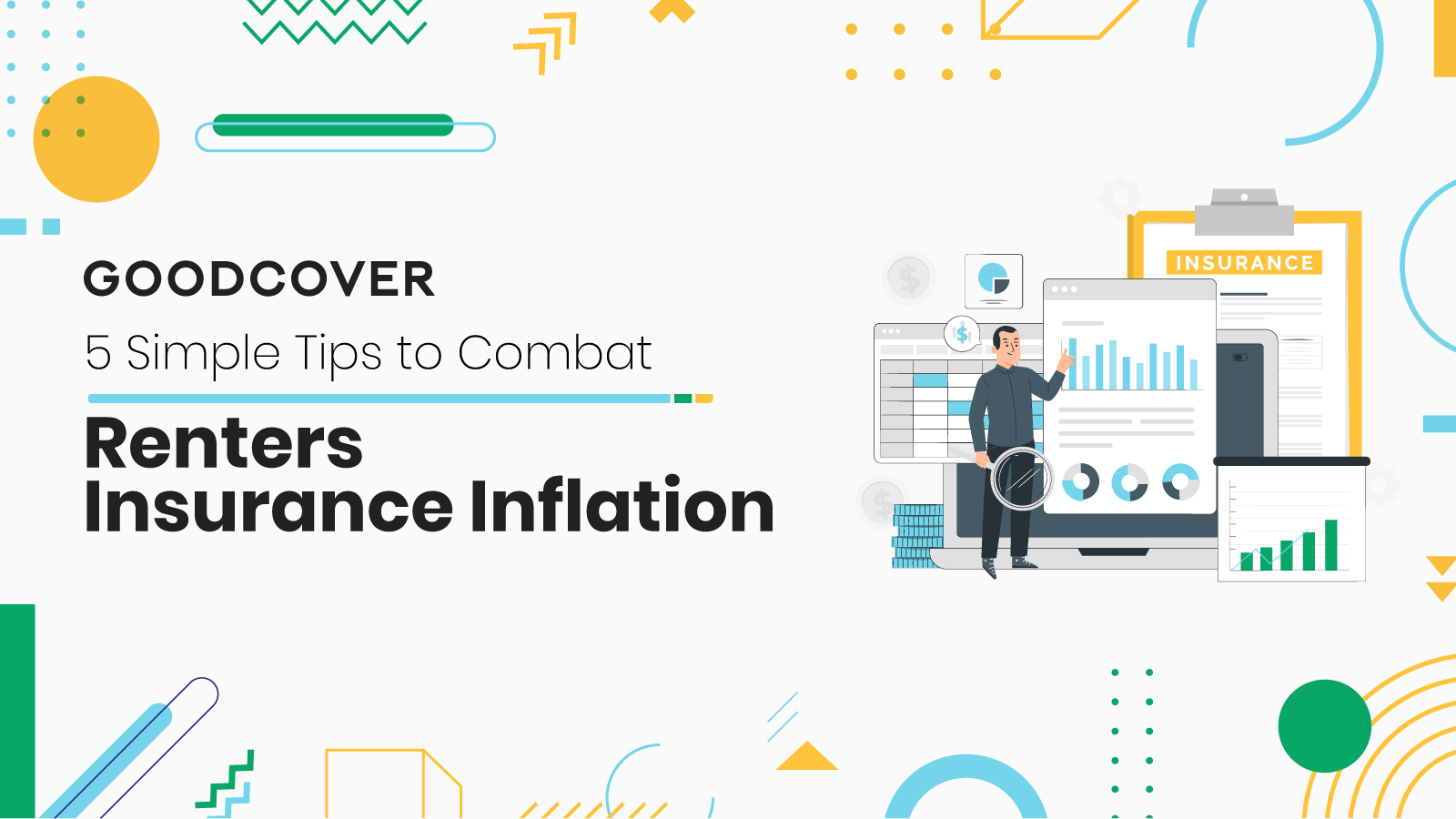 The furniture you bought for $700 in 2019 may have a sticker price of above $2000 right now.

The 2020 pandemic, labor shortages, and supply chain disruptions have caused a surge in prices countrywide.

According to the Bureau of Labor Statistics, the U.S. Consumer Price Index (CPI) for urban consumers rose 8.5% in March 2022. That's the highest increase the U.S. has seen in a 12-month-period since 1982.

How does this higher inflation play into your renters insurance coverage?

When the cost to replace your items goes up, your coverage should, too. Read on to learn the impact of inflation on your coverage and what you should do to ensure the best coverage.

How Inflation Affects Your Renters Insurance Coverage
Do My Insurance Premiums Rise With Inflation?
Renters Insurance — 5 Tips To Battle Inflation
Final Thoughts: 5 Simple Tips To Combat Renters Insurance Inflation

How Inflation Affects Your Renters Insurance Coverage
High inflation increases the costs of your insurance coverage. As goods like furniture, electronics, and clothes become more expensive under the effect of inflation, it costs more to replace them.

For you as a renter, that means inflation essentially weakens your insurance coverage.

What seemed like extra insurance five years ago may now leave some of your property unprotected. You should verify if you have enough coverage each year, so you aren't caught underinsured in a worst-case scenario.

Inflation also increases expenses for your insurer because it becomes more expensive to operate. A labor shortage means your insurer pays more for actuaries and underwriting services. Supply chain issues increase the claims cost of electronics — your insurer has to pay higher prices to replace any of your lost or damaged electronics — and reduces the insurer's profitability.

Do My Insurance Premiums Rise With Inflation?
The price of your coverage may increase with inflationary pressures, depending on your insurer and the policy. In general, we've seen insurance premiums increase across the board.


Allstate, in particular, raised its home insurance rates by 8% and auto insurance rates by 5.1%, citing inflation as the cause.

We at Goodcover prefer doing things differently. We strive to provide the most value in the insurance industry. To do so, we cut overhead wherever possible. We don't go for flashy celebrity endorsements, and we give you money back through our member dividends. If inflation affects our prices, you'll know it's a direct result of the market, not to keep our advertising budget afloat.

That means we're able to provide the lowest premiums in the industry. Our commitment to you is to continue providing exceptional value and transparent pricing. See how much you could save with a quote.

Renters Insurance — 5 Tips To Battle Inflation
You have no control over the inflation rate, but you can control your policy and your choice of insurance provider.

Here are five practical steps to ensure that your insurance protects your items for a fair amount:

1. Review Your Policy Limits
How much coverage you need depends on the value of your possessions — and in the insurance world, there are two ways or metrics to determine the value. You may hear of actual cash value (ACV) and replacement cost value (RCV).

We cover the nitty-gritty of ACV vs. RCV here. However, the short summary is that ACV covers the current cost of your personal property after accounting for depreciation, less the deductible. RCV pays you what it would cost to get a similar item new.

Review your policy coverage to ensure you have enough insurance coverage — whether your insurance provider covers ACV or RCV.
Suppose an intruder steals your four-year-old MacBook from your apartment. If you have a policy with ACV, your insurer will pay back its current market value after accounting for depreciation.
In contrast, RCV pays you what it would cost to get a similar MacBook new. RCV offers more coverage than ACV. At Goodcover, RCV payouts are the standard for all renters insurance policies.

What does this have to do with inflation?
Well, inflation impacts both RCV and ACV. With RCV, you reach your coverage limits more quickly, as it may cost more to replace your items today. And with ACV, you'll find that what you get paid in a claim doesn't help cover your loss as things cost more.

That's why it's essential to consider the inflation as you shop insurance providers and select your coverage limits.

2. Reach Out to Your Insurance Provider at Renewal
When your renters insurance policy renews, look at your policy and needs and adjust as necessary. Though you can probably do this via an online portal, talking to an actual person with your insurance company could be worth it.

Ask why your insurance policy is increasing. That way, you'll know if it's simply due to insurance inflation or related to a claim or increase in property coverage. This information will get you one step closer to reducing your premiums.
Ask about available discounts. From paid-in-full discounts to security discounts, there may be several ways your insurance provider can help you save money if they're familiar with your particular situation.
Finally, check If your insurer offers an inflation guard.

3. Make Sure Everything's Covered
As things get more expensive to replace, you don't want to have any blind spots in your coverage.

Go through your policy's terms and conditions to make sure it covers all your property (even the stuff in your shed or your special collectibles). Verify that your policy covers you against perils like theft, smoke, or weather. If something is missing, like earthquake insurance, you can acquire that long before you might ever need it.

Reviewing your policy helps you determine if you have enough coverage as a policyholder. Also, consider new items you've purchased and how much it would cost to replace your valuables. With this in mind, you may need to increase your coverage.

You can also enhance your protection by upgrading your coverage. With Goodcover, you can opt for SUPERGOOD, which enhances your coverage by protecting certain categories of items (like computers or fine art) against accidental damage. Adding SUPERGOOD to your coverage usually only costs a few dollars more per month.

4. Mitigate Your Risks for a Potential Discount
Taking measures that protect your property is always a good idea to help you avoid insurance claims in the first place.

You can qualify for special discounts on your personal property insurance policy by documenting your risk management measures and sharing them with your insurer.

For instance, you can use a tracker on your e-bike to reduce the risk of misplacement, theft, or loss. Similarly, you can install a security system to protect against burglary and property damage.

5. Shop Around for the Best Policy
You'll need to make price comparisons across providers to get the best deal.

While getting quotes, don't forget to consider the additional discounts each insurer offers. Those extra perks can add up and tip the scales.

At Goodcover, our Members can benefit from the following discounts:

Invite your friends to join Goodcover —  if you live in California, you and your friend can enjoy a month's worth of free insurance.
Goodcover pools your premiums, takes a fixed fee, pays any claims, and returns the remainder as an annual member divided to you. These unclaimed insurance premiums help you reduce your insurance expenses, but more importantly, it's our way of ensuring we don't overcharge you.
Final Thoughts: 5 Simple Tips To Combat Renters Insurance Inflation
Inflation can increase your insurance expenses. That's why it's important to review your policy and coverage limits yearly to make sure you have the right coverage.  

Shop insurance providers so you know you're always getting the best deal. We're committed to fair pricing, and we offer more affordable memberships than other renters insurance companies.

Compare Goodcover with other insurers and find how much you can save by switching.
---
Note: This post is meant for informational purposes, insurance regulation and coverage specifics vary by location and person. Check your policy for exact coverage information.

For additional questions, reach out to us – we're happy to help.