Know Your Rights: Choosing Your Renters Insurance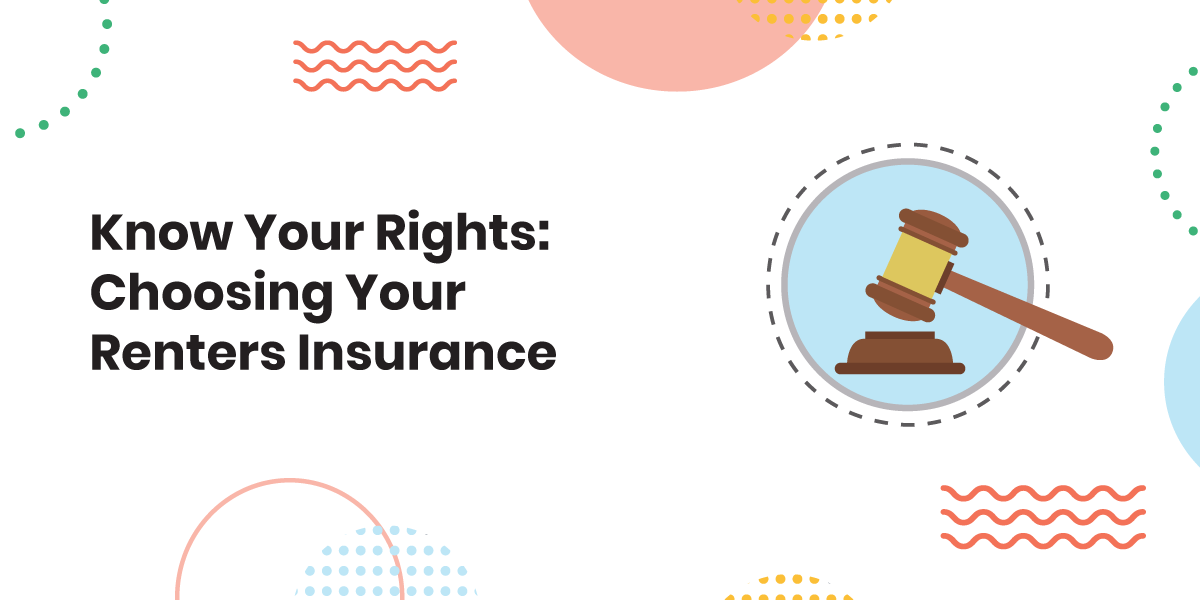 It's common for landlords to require a renters insurance policy on their tenants' leases. Usually, that means a minimum coverage requirement and proof of insurance.
But there are some things about your insurance policy that your landlord can't decide.
Can your landlord require you to buy renters insurance from a specific company? And what actions can you take if they do?
Read on to learn what your landlord can and can't do regarding renters insurance.
Can Your Landlord Require Renters Insurance Policy From a Specific Company?
What To Do If Your Landlord Tries to Force You to Get Renters Insurance from a Particular Company
Final Thoughts — Can a Landlord Require Renters Insurance from A Specific Insurer?
Can Your Landlord Require a Renters Insurance Policy From a Specific Company?
In short, your landlord can't force you to take a renters insurance policy from a specific insurer. But let's unpack that first.
Can your landlord require renters insurance at all?
Yes, it's perfectly legal for a landlord or property manager to require a renters insurance policy before you sign their lease agreement. No state mandates renters insurance, but your landlord has the right to make it a requirement in order to lease their property. They can also ask for proof of insurance, as well as to be listed as an interested party on your policy so that they're made aware of any significant changes to your policy or if you have a lapse in coverage.
Your landlord can also set the minimum acceptable coverage amount.
They can even go as far as having a list of recommended insurers. But they can't require you to choose the one they recommend. If your landlord forces or even "strongly suggests" you switch to one specific insurer, that should raise some red flags.
Your Landlord's Renters Insurance Coverage Might Not Be Insurance
In some cases, landlords and property managers may charge you a monthly fee for what you may think is insurance. That isn't always the case. In fact, it may just be a charge that waives their right to find you liable for any damages on their property.
This isn't true renters insurance coverage because it doesn't protect your personal property from loss, damage, or other perils. It also doesn't offer loss of use coverage, guest medical coverage, or complete liability protection from other types of lawsuits.
Always remember that your needs are unique. Only you can determine which insurance company and renters policy works best. The only requirement is meeting your landlord's minimum coverage limits. If you're unsure about anything, ask to speak with the insurance company directly for more information.
Why It May Be Unethical for Your Landlord To Make You Buy the Renters Insurance They Chose
If your landlord insists on a particular insurer, it could signify a potential conflict of interest. Your landlord may be invested in that particular insurance company or earn a rebate or fee for every renters policy purchased.
Your landlord's insurance of choice may be a company they receive a monetary incentive from. They could earn a fee for every renters policy purchased from that insurance company. That means they profit from your renters insurance purchase.
In the case of rebates, the same is true. The insurer would pay your landlord a rebate for every policy purchased.
Rebates and kickbacks aren't technically illegal. But buying your landlord's suggested policy might not be in your best interest. The coverage may not be adequate for your needs, as it may not meet your specific needs or may come with higher premiums and deductibles than you could get elsewhere.
It could lock you into a long-term policy, even if you're a short-term tenant. You might not agree with the business practices or stances the company takes, or you might find them untrustworthy.

It's important to research insurance options yourself and choose a policy that offers you the right coverage, rather than just choosing who your landlord wants you to choose.


Renters insurance covers far more than possible rental property damage in case of a covered loss. It's also for your personal belongings, liability claim coverage, and peace of mind. Opt for a policy that offers adequate coverage for your needs, not one your landlord prefers.
What To Do if Your Landlord Tries To Force You To Get Renters Insurance From a Particular Company
If your landlord insists on a specific insurer, here's what you can do about it:
Ask Your Landlord Why
It's pretty atypical for landlords or property managers to insist on a specific insurer. However, there may be valid reasons behind it. All insurance companies are built differently, so you may get different results depending on who you choose.
For instance, if your landlord has bad prior experiences, they may be justified to prefer a specific insurer. Unreasonable delays in paying out claims, refusal to pay valid claims, or paying partial claims could be contributing factors.
Knowing the root of your landlord's reasoning can help you discuss how your preferred insurance is reputable and not a risk.
With a Goodcover renters policy, you can ease your landlord's concerns by discussing the benefits and extent of your coverage and the reputation of Goodcover. Most landlords will listen to reason and change their minds.
Ask To Speak to the Registered Agent
Another option you have is to ask to speak to the registered agent offering the renters policy. Your landlord has to direct you to them.
If in-house, then your landlord or building manager has to be a registered insurance agent. If not, they can't legally sign you up for a policy. Instead, they'll forward it to whatever insurer they're working with, where a licensed agent will set it up.
Should you have concerns about your policy, you may only speak to the registered agent and not your landlord, since they can't underwrite the renters policy.
If you encounter further problems, consider making a complaint with your state's Department of Insurance.
Get Them To Speak To Goodcover
We're happy to receive calls from concerned landlords or call them for you when needed. It allows our Member Experience team to discuss how our renters policy covers our members' and the landlord's property.
Some of the features include:
Personal property coverage
Temporary housing (loss of use coverage, including additional living expenses like hotel bills)
Guest medical expenses
Personal liability coverage
Extra endorsements (such as water damage and natural disasters)
We also explain how our coverage benefits them, especially if they're concerned about paying out claims and liability coverage. Landlords can also be added as interested parties on renters policies so that we can update them on any major changes.
Ask your landlord to contact us via email, use the live chat feature on our website, or call 1-855-231-GOOD for more information.
Refer Them To State Laws
State laws also may have something to say about forcing people to use a specific insurer. In California, your landlord can't force you to use their policy if they have a limited license to provide renters insurance coverage.
They may recommend a list of providers, but they can't mandate a specific renters insurance provider.
Consult an Attorney
If all else fails, consult an attorney. They'll provide you with more information on your legal options, especially if your landlord moves to cancel your lease because of your preferred insurer.
You may also consult your attorney to understand what the laws in your state say about landlords forcing tenants to buy renters insurance policies from specific insurance providers.
Final Thoughts: Can a Landlord Require Renters Insurance From One Insurer?
Your landlord can require you to have a renters insurance policy before signing their lease agreement. However, some legal and ethical issues may arise if your landlord pushes you to a specific insurer, even when your current policy and insurer meet all their expectations and requirements.
If you currently have a Goodcover policy, discuss it with your landlord. You can also get them in touch with us, and we'll discuss it with them on your behalf.
Looking for a new renters insurance policy? Check out our website and get an insurance quote.
---
Note: This post is for informational purposes; insurance regulation and coverage specifics vary by location and person. Check your policy for exact coverage information.

For additional questions, reach out to us – we're happy to help.