How Working From Home Affects Your Renters Insurance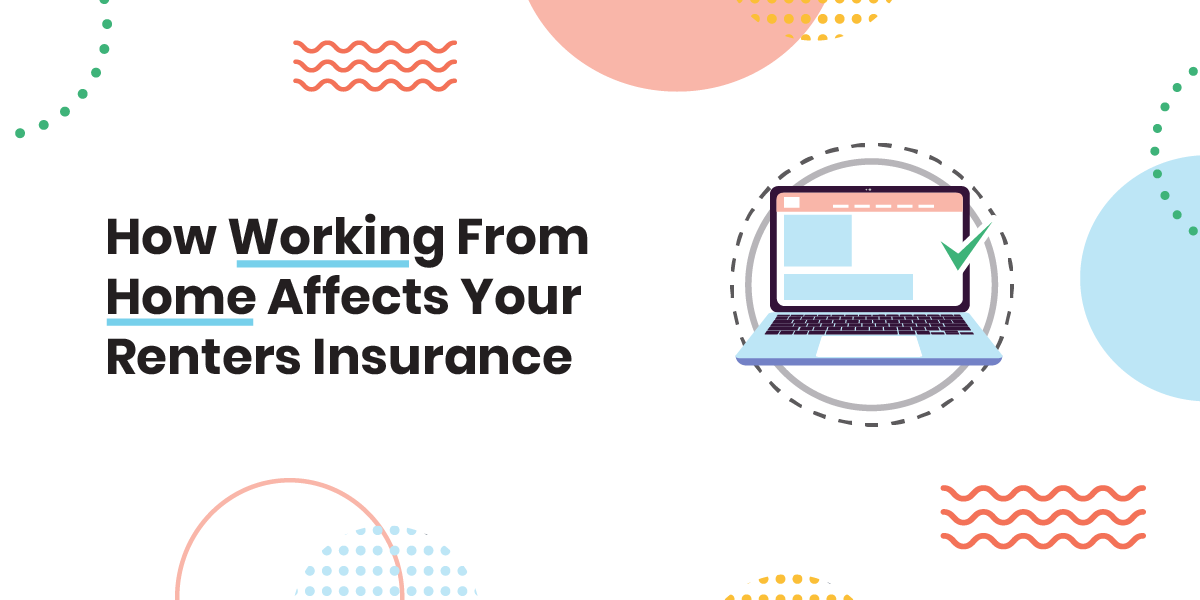 Most remote workers don't think about what happens if their work equipment gets lost, damaged, or stolen while working from home. Or they may assume that renters insurance covers it just like it covers their personal property, even though that's not the case.

It's important to know when your belongings are covered by your employer's business insurance policy or renters insurance and when you'll be held liable for damages.

With that in mind, here's what we'll cover:

Do You Need Renters Insurance When Working From Home?
Does Renters Insurance Cover My Work Laptop?
Does Renters Insurance Cover Injury to a Client?
Final Thoughts: Why You Need Renters Insurance When Working From Home

Do You Need Renters Insurance When Working From Home?
Employers' business liability insurance covers most full-time employees working from home. If company property gets damaged or stolen, you won't have to pay for repairs or replacement. And if you're physically injured in your home office, you're often entitled to workers' compensation.

However, policies vary. Ask your employer if they'll hold you liable for any damages to business equipment when working from home. Some business owners may hold you responsible and require payments for repairs or replacement.

You might also be meeting with a client or co-worker, and they injure themselves in your home. You'll need enough liability coverage in your renters insurance to cover you in such cases.

Liability damages can cripple your finances, especially if you don't have enough savings to cover the costs. Goodcover renters insurance policy can cover these costs efficiently and make life easier if and when these incidents occur.

Does Renters Insurance Cover My Work Laptop?
Unfortunately, renters insurance doesn't cover your work laptop or office equipment.

If you're a remote employee and damage your work laptop, first your employer will contact their insurance. Depending on their insurance policy, your employer (or their insurance) may pay to fix or replace that laptop. Some employers may deduct those repair costs from your salary, while others might cover the expenses without repercussions, depending on the company policy.

If your employer finds you responsible for the damage, you won't be able to file a renters insurance liability claim to pay for the work laptop. You'll have to pay out of pocket.


If you use your personal laptop for work, Goodcover renters insurance will cover it against covered perils. For instance, our insurance coverage kicks in if your computer gets damaged due to:
Fire and lightning
Short-circuit damage by electrical appliances
Smoke damage
Theft and vandalism
Water leakage

Goodcover insurance policy also covers your personal laptop on or off your rental premises. For example, if you decide to work from a coffee shop one day and someone steals your computer, Goodcover's renters insurance coverage will kick in to cover the loss.

Goodcover will help you purchase a new, equivalent replacement (RCV) for a covered loss. Other insurance providers may pay less to account for your laptop's current, actual value (ACV).

Is Water Damage to Laptop Covered by Renters Insurance?
Coverage for a laptop damaged by water depends on how the damage occurred.

For example, if a burst pipe destroys everything in your apartment (laptop included), the device will be covered under your liability policy (for your work laptop) or personal property limits (for your personal laptop).

Let's say you spill water on your personal laptop that you use for work, and it stops working. You'll only be covered if you have additional coverage — such as our SUPERGOOD plan — that covers accidental damage. Extended coverage will usually cost you less than one extra dollar per month.

Does Renters Insurance Cover Injury to a Client?
Goodcover may cover the medical fees and provide liability coverage if you work from home and a client or co-worker visiting you gets injured.

For example, say your colleague slips and falls in your apartment. Goodcover will help you pay for any medical bills, reducing the chances of getting sued. But if the co-worker still sues you, the liability coverage would protect you.

That said, this coverage depends on the frequency and nature of these business visits. It's best to review your renters insurance policy and talk to your insurance agent beforehand.

Also, note that you can't claim compensation from your renters insurance provider if you get injured. It's only for guests visiting your place. If you happen to fall and injure yourself while working from home, your health insurance should cover the costs.

Final Thoughts: Why You Need Renters Insurance When Working From Home
When working from home, renters insurance is a must-have. You can protect your belongings and clients for a small monthly fee while avoiding a situation that could cost you thousands of dollars.

Goodcover helps you review your insurance policy to determine whether you have the right coverage. You can send your current policy to compare@goodcover.com, and we'll send back a detailed coverage comparison. If you like what we offer, you can join immediately, and we'll help you cancel your old policy.

Goodcover can help you save up to 50% over legacy providers. We also return unused premiums to members every year through our Member Dividend.

Protect your finances by getting a Goodcover insurance quote today.
---
Note: This post is meant for informational purposes, insurance regulation and coverage specifics vary by location and person. Check your policy for exact coverage information.

For additional questions, reach out to us – we're happy to help.