Goodcover Member Dividend 2021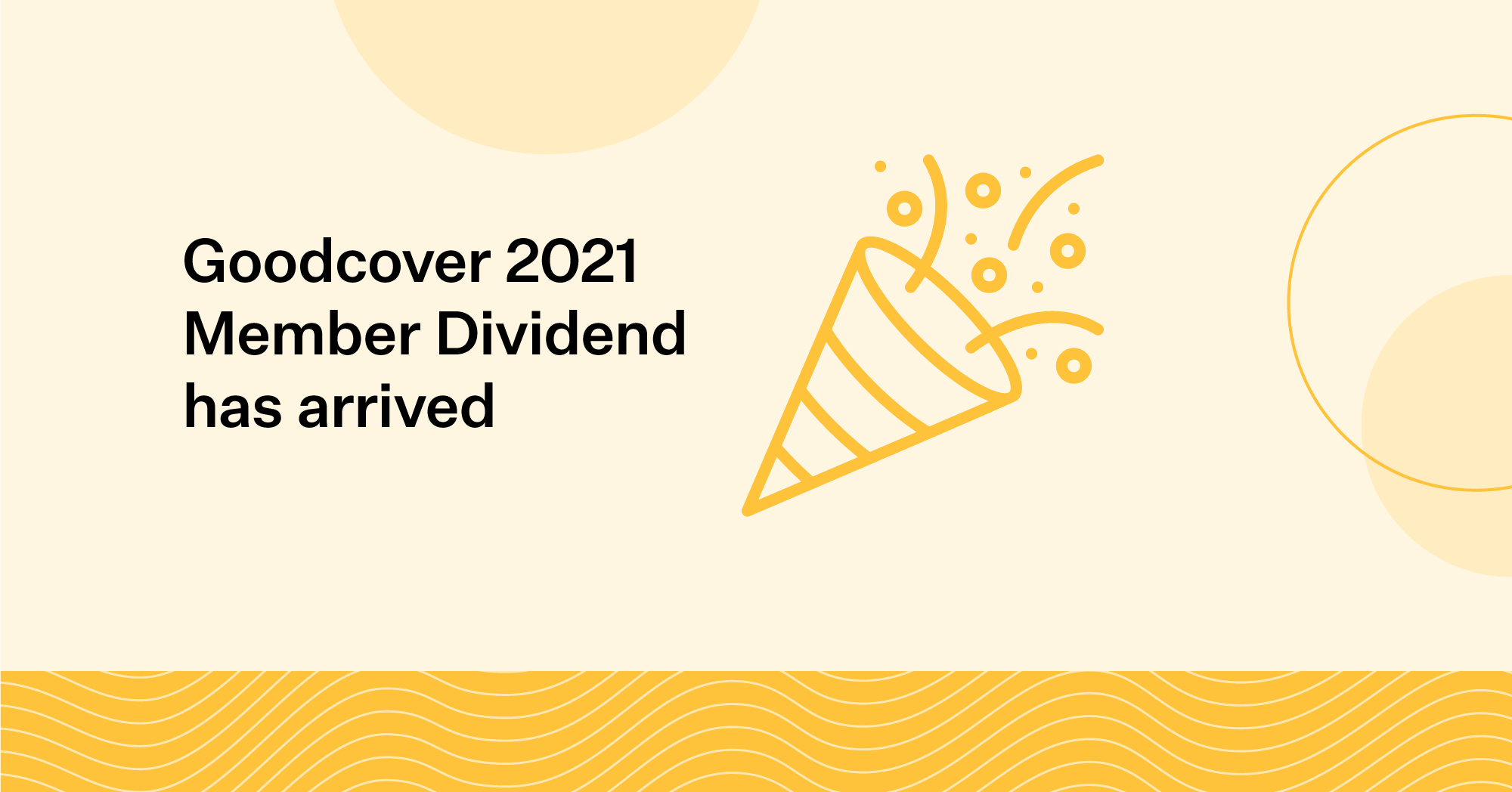 It's been a tough year for everyone. Between COVID's Delta resurgence, record wildfires, the rising cost of living, economic uncertainty, and continued stress and uncertainty over rents and potential evictions, Californian renters have had an especially tough year.

Here at Goodcover, we've been welcoming more and more members every month, and we're honored thousands of Californians have chosen us for renters insurance protection. With renters insurance out of the way - and especially for those of you who've had claims this year - we hope you have one less thing to worry about.

And now that the last 12 months are over, we're glad to report that this year's member dividend is 1.93% – derived from removing our Loss Ratio of 78.07% and Goodcover fixed cost of 20%.

We based Goodcover on a co-op model where members' monthly premiums are pooled, which in turn are used to pay membership claims. We facilitate and serve this membership at a modest fixed fee. Whatever money comes in and isn't used to meet obligations, is returned back to members through our annual member dividend. At Goodcover, we pride ourselves on being honest, transparent, and prudent with members' money as all insurance should be.

How is the dividend calculated?
At the end of every summer, we begin the process of analyzing how claims, premiums, and expenses fared to our expected outcome. Every year is different and there's no guarantee any money is needed to be returned, but it does remain a transparent way to show we'll never overcharge you unlike the rest of the insurance industry.

The specific dollar amount returned to a member is calculated by: total premium a member contributed in the year leading up to 8/31/2021 (when cut-off for calculations was set), multiplied by 1.93%.

If a member reaches the threshold needed to receive a dividend, it will be automatically credited on their next billing cycle. Members also have the option to donate their credit to the fund for good – the Goodpool fund.

Claim insights
Theft remains the most common type of claim we see, comprising over half of all claims. A notable addition that's grown in claim value size has been fire-related claims. Last year was a record-breaking fire season in California, fueled by climate change. This year's wildfire impact is substantial, yet again, and unfortunately, this trend seems to be here to stay. Consequently, we'll see fire-related claims grow in importance for the foreseeable future.
Members impacted
From wildfire evacuations to pandemic moratoriums, many members have been impacted in these unusual times. We're blessed to offer help and calm in the midst of today's uncertainty.
Member Ananda of South Lake Tahoe permitted us to share her evacuation experience during the Caldor Fire. Her father told her what he understood about Loss of Use when the wildfires headed her way. What he said amounted to your "Renters policy will pay for a hotel room if you're told to evacuate." Our support team proactively called members at risk of evacuation, and when we reached Ananda she was relieved to confirm with us that what her father shared was true and much more. Because of the conversation before the mandated evacuation, she meticulously kept track of all her receipts related to lodging, meals, and additional mileage for the commute to work. She was evacuated from the first hotel that she found and ended up at an Airbnb. Ananda followed up with a call and was reassurance that Goodcover would also cover the Airbnb expense.
Among the many hardships during the pandemic, evictions were another threat renters across the country faced. Federal and local programs were established to help mitigate a flood of displaced tenants with mix levels of success. California is one of the few states to try an ambitious plan to help, the CA COVID-19 Rent Relief program provides financial assistance for rent and utilities to income-eligible California renters and their landlords who have been impacted by COVID-19. We think it's a vital program offering some important help to the renter community in California, we encourage all to apply on Housing is Key website.
While our core group of members live in the main urban areas of Los Angeles & Bay Area counties, we serve members from all across California, from beach towns to mountaintop communities to fertile valleys – and yes including Imperial County for those following along from last year. Further comparing from a year ago, our average member age has shifted younger and yet the diversity of all age brackets grows – our oldest members crossed the glorious age of 90.
Goodpool – cause for good
We created a fund to help offer peace of mind for those in extraordinary circumstances. Our focus during the last year remained giving free insurance to first responders on the frontlines of the pandemic. Members have the option to donate their annual member dividend to help the cause.
Looking forward to the year ahead
From all of us here at Goodcover, thank you again to the Goodcover membership for trusting us with your renters insurance. Your contributions are what really help your fellow members in these hard times. We'll continue to do our best to live up to that trust - here's looking forward to a brighter year ahead!

Chris Lotz
CEO and co-founder