Extended Coverage: Increasing Coverage Limits on Valuables in Renters Insurance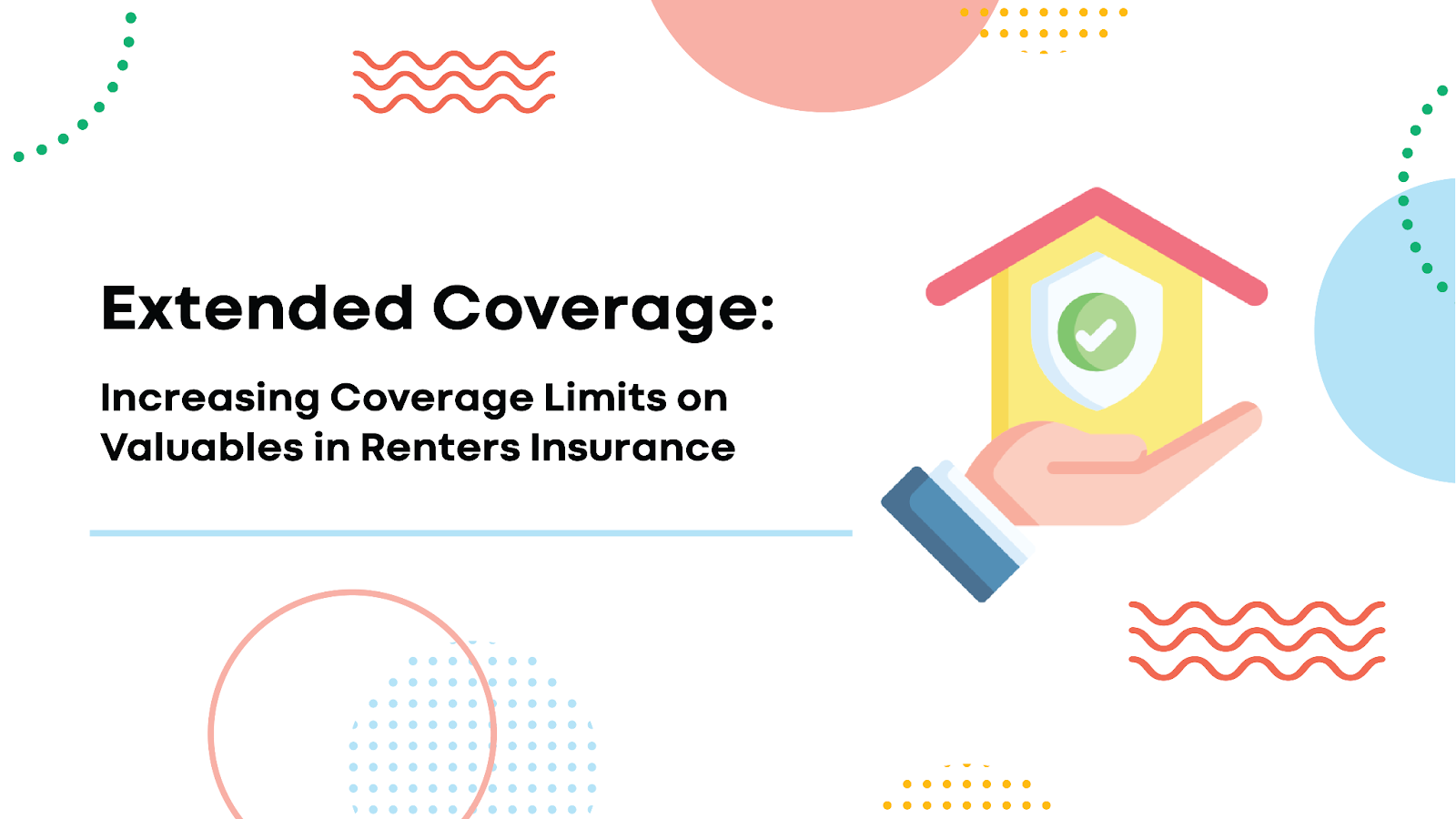 Renters insurance covers your personal property against specific risks (called "perils"), such as a windstorm, theft, or fire.
But there's a limit on how much compensation you can receive for different items. If someone takes your valuables, you might not receive the total amount from insurance as compensation due to your personal property limits. And if your manga collection or laptop gets damaged or misplaced, you might not receive payment at all. You'll want extra protection for these scenarios.

Enter extended coverage, or as we call them – our SUPERGOOD and ULTRAGOOD plans. With protection for your high-value items beyond your personal property coverage limit, you'll enjoy peace of mind if the unthinkable happens.

Read on to learn more:

Extended Coverage Policy
Renters Insurance — Why You Need Extended Coverage
What Items Can You Schedule?
3 Documents You Can Use for Extended Coverage Claims
Final Thoughts: Extended Coverage — Increase Renters Insurance Coverage Limits

Extended Coverage Policy
Extended coverage broadens the scope of your insurance policy's coverage. It supplements your standard policy and increases the coverage for your valuables.

Renters Insurance — Why You Need Extended Coverage
Goodcover renters insurance policy offers personal property coverage of $100,000. If you've got expensive jewelry, an art collection, or premium cameras, you may need additional protection to replace your items if something bad happens to them.

You can insure specific high-value items, also called scheduling items, to increase the amount of coverage on that specific item.

Extended insurance coverage benefits you in two ways:

1. Deductible-Free Coverage for High-Value Items
You can schedule a high-value item to extend the coverage limit on that item.

And there's no deductible. So you could get up to the limit of the additional coverage to replace your item.

You can get this additional coverage for a  low price — especially if you choose Goodcover. Goodcover offers its Members wholesale-priced plans that cost 50% less than legacy coverage options.

2. Reliable Protection Against Misplacement and Accidental Damage
You can also cover exclusions like misplacement and accidental damage by scheduling an item.

Generally, renters insurance policies don't cover lost items or items damaged by accident, so extended insurance coverage provides you with extra protection for your valuables.

For instance, upgrading to Goodcover's SUPERGOOD plan helps you cover your losses when something is accidentally damaged, like stepping on your diamond ring or dropping your laptop. And if you upgrade to ULTRAGOOD, you'll have coverage against damages due to accidental damage and misplacement, aka something you lost (but wasn't stolen).

What Items Can You Schedule?
A renters insurance policy usually covers the following items:

Computers and other electronics
Jewelry and watches
Bicycles
Drones and cameras (excluding drones with cameras)
Collectibles (stamps, comic books, etc.)
Musical instruments

While you could schedule all items you own that fit under the categories above, scheduling specific items for your extended coverage policy makes much more sense.

To determine which items you should schedule, check the claim limits for your items. There is a claim limit — the highest amount of money your insurer will pay you — for every category.

For example, say you own collectibles worth $1,100, but your standard renters insurance policy has a claim limit of $1,000 — it might not be worth scheduling your collectibles. However, if you have $5,000 worth of jewelry and your standard policy has a limit of $1,500 on jewelry, extended coverage would make a lot of sense.

Extended coverage only applies to the specific item you've scheduled, not any related gear. For instance, if you've scheduled a musical instrument, the headphones and recording software aren't covered.

There are also a few items you can't schedule at all. For instance, you can't get extended coverage for your TV, refrigerator, and furniture. Standard renters policy limits apply to these — they're just your personal belongings, and your personal property limits cover them.

3 Documents You Can Use for Extended Coverage Claims
You'll need certain documents to file a claim with your insurance company for extended coverage.

Three types of documents you need for your claim to be eligible include:

Proof of possession: This can be pictures of the scheduled item before and after it was damaged. It's always good practice to maintain a home inventory.


Proof of ownership: You can prove ownership with a receipt of the scheduled item.


Proof of value: You can use the receipt to prove an item's value in some cases, but usually, you'll need an appraisal. Goodcover requires that you get your appraisal completed within 30 days to validate your extended coverage.

In some cases, the appraised value might exceed the amount you have scheduled it for in the extended coverage policy. If the replacement cost is greater, the insurance company will compensate for the scheduled amount.
Final Thoughts: Extended Coverage — Increase Renters Insurance Coverage Limits

A renters policy protects your assets against covered perils, but the coverage for several high-value items is limited. Consider getting extended coverage if you possess an expensive computer, jewelry, or collectibles.
Extended coverage ensures you get compensated up to the scheduled limit of the damaged item.

With Goodcover's ULTRAGOOD plan, you also get coverage for misplacement and accidental damage. Compare your current policy with Goodcover and see how you can get a bigger bang for your buck.