Choosing the Right Deductible for Your Policy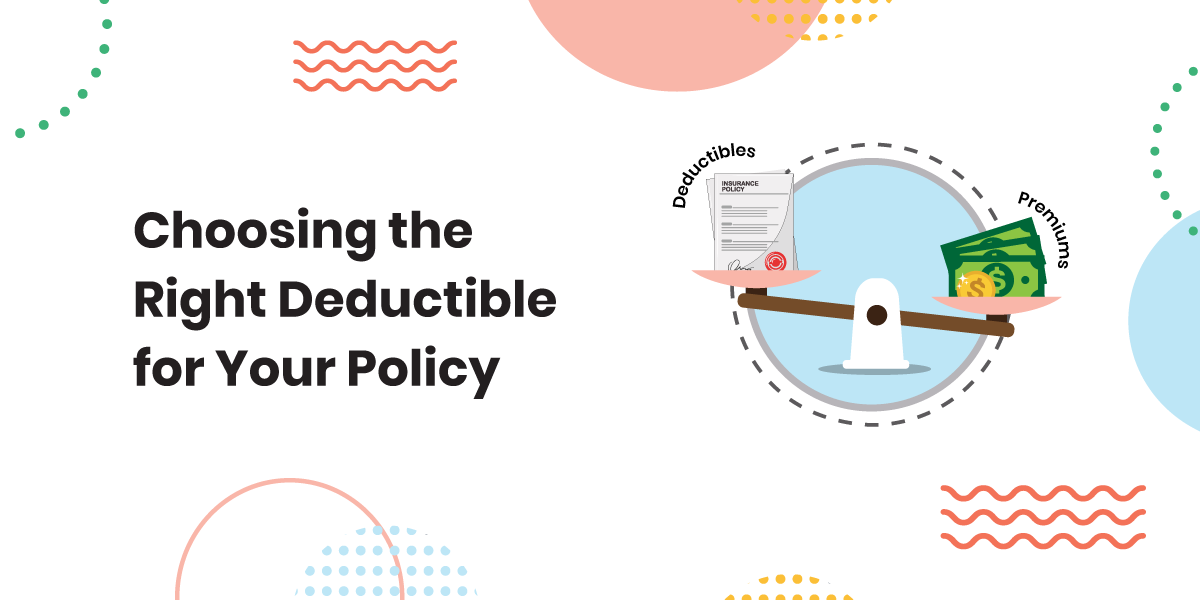 Before signing up for a new insurance policy, it's important to review your deductible. It's understandable if you've never thought about your deductible before — that's completely normal! Few people do until it's time to file a claim.
But understanding what a tenant insurance deductible is and how it works can help you make better decisions about your coverage. Not only will your deductible affect your premiums, but it will also determine how much money you need to pay out of pocket before your insurance kicks in.
Let's dive into everything you need to know about renters insurance deductibles and how they impact your policy.
What Is a Deductible in Renters Insurance?
What Are My Deductible Options?
How To Pay No Deductible on Certain Items
Final Thoughts: Understanding Deductibles for Renters Insurance
What Is a Deductible in Renters Insurance?
A renters insurance deductible is an amount of money that you may have to pay out of pocket when you make a claim on your renters insurance policy. The insurance company subtracts this from your payout. Your insurance provider will charge the deductible once each time you make a new claim.
Some insurance companies will allow you to choose the deductible when you sign up for a renters insurance policy. It will usually be a fixed dollar amount, but some insurers may charge a percentage.
Renters insurance deductibles can be confusing, but they're necessary.
There are a couple of reasons your insurance company charges a deductible when you make a claim:
Deductibles encourage you to be more careful with your personal property. You're less likely to put it at risk of loss or damage if you play a part in replacing it in a future claim.
They discourage you from making frivolous claims. Sometimes, the cost of repairing or replacing an item can be more than the item itself. Besides, the insurer would have to raise premiums if every policyholder made small claims.
When you think about it, paying a $250 deductible to replace a $50 watch makes no sense to you or your insurer. So, it isn't worth filing if your claim is below the deductible.
Here's what Ryan Moorhart, Goodcover's Head of Member Experience, says about why tenant insurance deductibles matter:
"Deductibles encourage you to be more careful with your personal belongings and help manage insurance costs for both Goodcover and the renters we insure. Some risks are unavoidable, but since you're also responsible for a portion of the loss, you're more likely to take responsibility for your property. Goodcover will cover all valid claims, but you'll never have to pay a deductible for a covered loss that never occurred."
How Does a Tenant Insurance Deductible Work?
Let's say your MacBook worth $900 gets water damage from burst pipes in your apartment, and you have a $250 deductible on your Goodcover renters insurance policy. Your payout will be the total price of your MacBook minus the deductible.
That means Goodcover will pay $650 for your insurance claim. You'll pay $250 out of your pocket to cover the difference in buying an identical MacBook.
Remember that the renters insurance deductible you choose affects the cost of your premiums. A lower deductible may result in higher premiums, while a higher deductible may lower your insurance rate.
What Are My Deductible Options?
With Goodcover, your tenant insurance deductibles will range between $250 and $500 per claim, depending on the coverage you choose.
If you choose the GOOD plan, your deductible will be $500. This plan also gives you the friendliest insurance premiums at just $5 a month.
The GOODER plan has the same deductible. Its monthly premiums are slightly larger at $6.59. But the personal liability and personal property coverage limits are higher.
The GOODEST plan has a low deductible of just $250. It also has a higher premium of $8.76 per month. But it offers more personal property and liability coverage than the other two plans.
How Much Should My Renters Insurance Deductible Be?
Ideally, your deductible should only be as much as you're willing to spend out of pocket after you make a renters insurance claim.
With Goodcover, your deductible will either be $250 or $500. You choose your deductible when selecting your insurance policy.
How To Pay No Deductible on Certain Items
When you need additional coverage for valuable items such as jewelry, electronics, engagement rings, and paintings, Goodcover can help.
Best of all, if an item under extended coverage suffers a covered loss, you won't have to pay the deductible. Goodcover has your back, especially if you have valuable items. You can upgrade your current plan to SUPERGOOD for certain classes of items.
SUPERGOOD coverage has no deductible and will cover your items even if you accidentally damage them. That said, the maximum reimbursement for a single item is $5,000.
Increasing coverage for specific categories lets you increase the protection for your big-ticket items without needing to raise your overall limits.

Let's say you add a $1,000 watch under the SUPERGOOD plan. Goodcover will pay its replacement cost value (RCV) without charging a deductible if it's ruined due to covered perils like a fire in your home.You'll also receive additional insurance coverage against accidental damage, such as dropping it.
The best part? These upgrades are affordable and may cost you less than a dollar per month more in premiums.
Here's what Moorhart had to say about zero deductibles:
"We understand that some of your belongings are especially valuable to you. That's why we offer the option to increase the coverage limits on certain categories of valuable items , like jewelry, on your renters insurance policy. By increasing the limits in these categories, you're telling us that these items are more valuable to you, so we're happy to waive the deductible on these items when you need to make a claim.
While increasing coverage limits in certain categories may result in slightly higher premiums, you'll enjoy peace of mind knowing your most precious possessions are fully protected. Plus, you won't worry about paying any deductible when it comes to filing a claim on those items — something you can feel really good about."

Final Thoughts: Understanding Deductibles for Renters Insurance
Now that you know what a tenant insurance deductible is and how it works, it's time to choose your policy.
Remember to look at the deductible amount before selecting your policy with an insurance agent to make sure you can handle the potential out-of-pocket costs. Plus, the deductible you choose can raise or lower your monthly premiums.  
Also, remember to add extra coverage for your most valuable items so you won't need to pay a deductible for them.
Ready to check out how Goodcover's deductibles work across plans? Get a renters insurance quote today.
---
Note: This post is meant for informational purposes; insurance regulation and coverage specifics vary by location and person. Check your policy for exact coverage information.

For additional questions, reach out to us – we're happy to help.