9 Losses Your Renters Insurance Doesn't Cover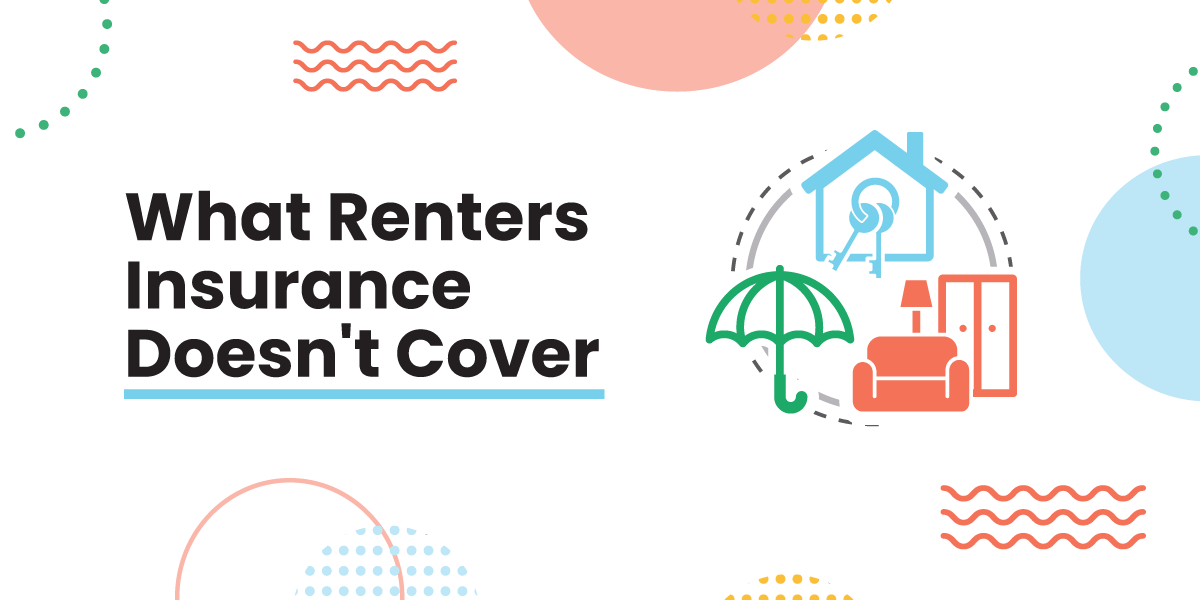 Moving into your first rental is a big step. You're finally adulting, and as a responsible adult, you should get renters insurance. Without renters insurance, you and your personal property remain unprotected.

For instance, if someone injures themself in your apartment, you'll have a personal legal liability to pay their medical bills.

Renters insurance will protect you from everything… or will it?

The average millennial or Gen Z renter usually doesn't understand what renters insurance covers and doesn't cover. Sure, it's important to know what renters insurance protects you from, but it's just as important to understand what it doesn't cover to avoid surprises and get other types of coverage where required.

With that in mind, let's avert future surprises by exploring the range of renters insurance coverage.
What Renters Insurance Doesn't Cover
Damage caused by pests or bed bugs
Earthquakes, floods, landslides, or sinkholes
Car theft
Your roommate's property
Costs of moving
Pet-related incidents
Some types of water damage
Property damage
Impossible-to-Insure Events

Let's look at these in more detail:
1. Damage Caused by Pests or Bed Bugs
Property owners spend over two billion dollars treating damage caused by termites each year. As a renter, it's natural to want to know if your fancy new dresser is covered by your renters policy in case termites decide to snack on it.


A standard renters insurance policy won't cover damage caused by pests, rodents, or bed bug infestation.

Insurance covers losses that are sudden and accidental. In the case of pests, it's usually a maintenance issue — not a sudden occurrence or an accident.

Since renters insurance covers only unexpected costs, you'll need to bear the costs of damage caused by them. You, or your landlord, may also be responsible for extermination.
2. Earthquakes, Floods, Landslides, or Sinkholes
Renters insurance doesn't cover personal property damage caused by earthquakes, floods, landslides, or sinkholes.

Instead, Goodcover rental insurance policies insure you against a broad spectrum of events that might cause damage or loss to your personal property. In the insurance world, these are called covered perils. Covered perils include windstorms, wildfires, water damage, vandalism, and theft, among other losses.

Section I of HO-4 lists 16 named perils, exclusions, and exceptions from coverage. Anything not listed in HO-4 should be insured with other types of policies. For example, you can buy flood insurance to protect your property against flood damage if you live in an area where flooding is common. The same goes for earthquakes. Goodcover offers earthquake insurance through our partner, Palomar.

As a tenant, though, you won't need to worry about insuring against damage to the building or the property structure because homeowners insurance and landlord insurance covers that.
3. Car Theft
Your car's damage or theft aren't covered events, even if it was parked on your rental property when the damage or theft occurred. Your car insurance policy covers those. However, you're entitled to reimbursement from Goodcover for the personal items inside the car when the event occurred.

Let's say someone smashes your car's window and steals your laptop from the vehicle. The car insurance will cover the cost of repairing the window, but Goodcover will likely reimburse you for the computer since it's your personal property.
4. Your Roommate's Property
Renter's insurance doesn't cover your roommate's property unless your roommate is related to you or named on the insurance policy. Unmarried couples, domestic partners, and friends that live in the same unit are all considered roommates as far as insurance goes.
Some states, companies, or landlords require each roommate to have their own policy. But, if it's allowed by your state and landlord, you can choose to list your roommate on your renters insurance.
In that case, the question becomes, "Should you add your roommate to your renters policy?"
Here are some reasons it's not advisable to add a non-relative to your insurance. Adding a roommate effectively means that you are sharing coverage. In other words, if you have a personal property limit of $20,000, that means you have $20,000 total (not each).
Furthermore, if one of you files a claim for a covered incident, it will appear on both of your histories since you share the policy. That means you could face higher premiums in the future, even if you weren't the one to make the claim.
Lastly, If your roommate moves out and you stay in the apartment, you'll have to adjust your policy to remove them.
5. Moving Costs
Renters insurance doesn't cover moving costs, except in cases where the rental unit needs repairs due to a covered loss, like if you need to relocate due to water damage in your home.

Renters insurance covers your personal property while you move, but there's an exception here: if property or valuables are damaged or stolen because of your negligence or improper packing, your renters insurance won't cover such loss. So, make sure you break out the bubble wrap!

When relocation expenses are covered, your renters insurance policy will also cover the additional living expenses you may incur while moving — aka loss of use (temporary housing) coverage.

However, the insurer will usually cap the coverage for the personal property stored away from the rental unit. The cap is typically 10% of the policy's coverage limit.
6. Pet-Related Incidents
Liability insurance offers liability protection in most cases. However, you should know about exclusions when it comes to pets.

When a pet causes injury, liability coverage on your insurance should protect you.

If your dog bites someone, it could cost you an average of $50,245 if the person files a lawsuit to cover their medical bills.

Your renters policy will usually cover such medical expenses and protect you against any liability from the lawsuit. So, what won't it cover?

You won't have coverage if the dog is on the vicious dog breed list. Some insurers will even exclude coverage just for owning aggressive breeds.

Plus, renters insurance policies also exclude coverage for exotic pets like monkeys, so you might want to discuss this with your insurance agent.
7. Some Types of Water Damage
Renters insurance doesn't cover damage caused by leakage from water/sewer backup, but you can get water/sewer backup coverage added for a nominal cost, and sometimes for free.

Your renters insurance policy also won't cover damage from groundwater coming up because of heavy rains. Your landlord will need to take care of that.

There's a caveat with coverage for storms. If your landlord hasn't maintained the property and a storm causes damage, renters insurance won't cover it. However, the damage would likely be covered if caused by a named peril during a storm, like wind damage.
8. Property Damage
Renters insurance doesn't cover property damage to your landlord's housing structure except in specific cases. The landlord should cover any structural damage or wear and tear of the property.

However, if the property is damaged because of a covered loss like fire, your renters insurance will cover that. Plus, renters insurance also covers accidental damage you cause to someone else's property.

9. Impossible-to-Insure Events
Lastly, certain risks such as wars, nuclear hazards, and government seizures break the math that makes insurance work. These events are so catastrophic and hard to predict that there is no way Goodcover – or any insurance provider –  could ever charge enough premium to cover them adequately.

If catastrophes like these occur, implementing federal and state programs will help citizens rebuild. Thankfully, these risks have a relatively low chance of happening and should not concern most renters.
Final Thoughts: What's Not Covered By Renters Insurance
It's best to know the types of coverage, coverage limits, and what is not covered by renters insurance to avoid surprises when you finally need to file an insurance claim.

Before you buy renters insurance to protect your possessions, make sure you understand the terms of the policy thoroughly and do your due diligence.

Are you looking for a transparent insurer to insure your personal property? Get a renters insurance quote from Goodcover today.
---
Note: This post is meant for informational purposes, insurance regulation and coverage specifics vary by location and person. Check your policy for exact coverage information.

For additional questions, reach out to us – we're happy to help.