Your Ultimate Guide to Nevada Renters Insurance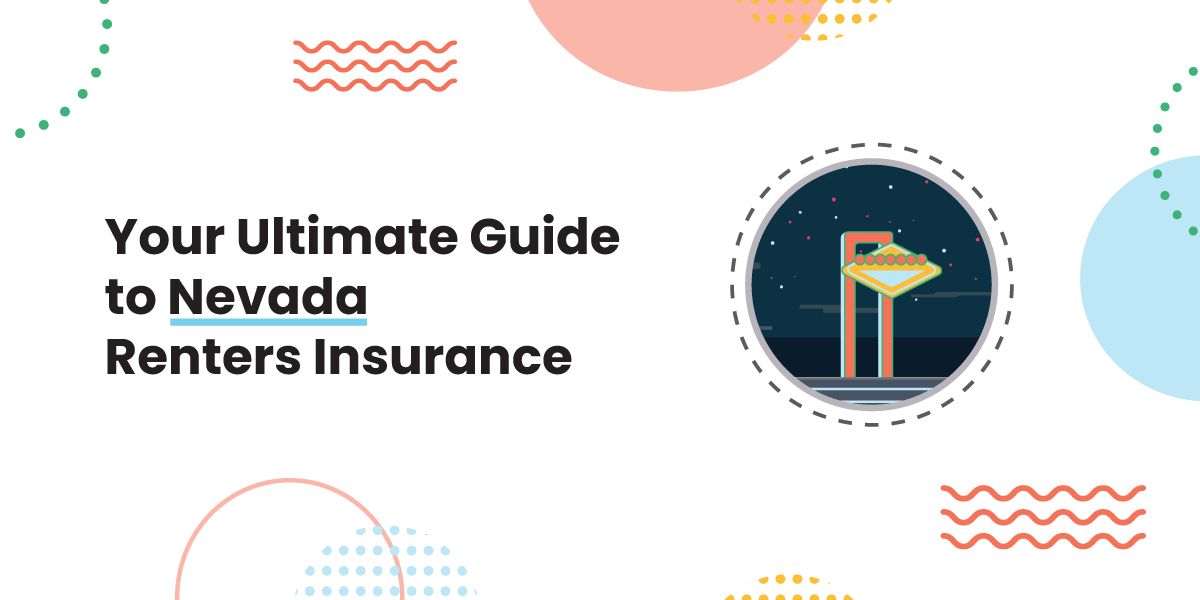 Nevada is home to Las Vegas, one of the most-visited cities in the world, featuring around-the-clock entertainment from top artists across theater, music, and comedy. Besides that, Nevada residents enjoy great housing options, top-notch culinary stops, no state income tax, and a reasonable cost of living.

However, Safewise reports that burglaries in the Silver State account for 19% of all property crimes — 3% higher than the national average of 16%. So whether you're in Nevada to study, work, play, or anything in between, you might want to cover your stuff with renters insurance.

A renters insurance policy protects your belongings in case of a break-in, fire, or any other covered loss.

Keep reading to discover:

Is Renters Insurance Legally Required in Nevada?
Average Nevada Renters Insurance Cost
What Does Renters Insurance Cover in Nevada?
What Does Renters Insurance Protect Against?
Top Nevada Renters Resources for Tenants
Is Renters Insurance Legally Required in Nevada?
No state law requires you to have renters insurance in Nevada, but your landlord can legally require it as part of your lease agreement. So, always confirm with your landlord during the application process to know if they need you to have renters insurance.

Even if your landlord doesn't require you to have a renters insurance policy, having it is a superb way to protect your personal property.

According to Nevada Crime Statistics, robbery represented 19.2% of the total number of crimes committed in Nevada in 2021. Of this figure, 14.4% of these were residential robberies.

Given such stats, it's clear why renters insurance in Nevada is crucial. If you have a policy, insurance will compensate you for your losses in an unexpected event such as robbery or any other covered loss.

The good news is that signing up for a renters insurance policy with Goodcover is simple, and you'll thank yourself later if your valuables are stolen or damaged.
Do I Need To Add My Landlord to My Policy?
When signing your lease agreement, your landlord may request that you add them as an additional interest on your policy. That means they'll be kept in the loop if you make any changes or cancel your policy.

However, if your landlord requests your renters insurance policy to include their name, confirm if they mean additional interest or named insured.

As an additional interested party, your landlord will only see the policy and any changes made to it but won't be able to make the changes themselves.

If the landlord means named insured, our support team will be happy to send a letter explaining why your landlord shouldn't be named insured on your policy.
Should I Add a Roommate or Significant Other?
At Goodcover, we highly recommend sharing a policy with your roommate(s), partners, or significant others – and they're already included if they're on your lease.

This way, if you need to file a claim, you only need to do it once. It's easier to get paid out on shared property, only one person needs to handle it, and of course, you get to split the premium between two people.
Average Nevada Renters Insurance Cost
The average cost of renters insurance in Nevada is $235 per year. That's 9% more expensive than the national average of $216 per year.
Renters insurance companies like Allstate cost approximately $247 per year, while State Farm costs $130 per year.

Keep in mind that prices vary — even between the same providers. Your location, age, coverage, and claims history can all impact how much you'll pay for renters insurance.

The best way to know what you'll pay is to visit goodcover.com and get a personalized renters insurance quote. After signing up with Goodcover, you could potentially save even more money by getting an auto insurance quote through Goodcover Auto.
What Does Renters Insurance Cover in Nevada?
Renters insurance has three coverage options: personal property, liability coverage, and temporary housing.
Personal property coverage ensures your personal belongings are protected, whether you're partying in Las Vegas, touring Europe, or just relaxing at your apartment. So if someone steals your laptop while visiting the Louvre Museum in Paris or your furniture is ruined due to water damage from a burst pipe, Goodcover renters insurance will have your back.

Personal liability coverage kicks in if you cause damage to someone else's property or someone gets injured in your apartment. In that case, your insurance company will cover legal fees and property damage costs.

Your insurer will also cover medical expenses for the injured guest. But note that your renters insurance policy won't cover any medical fees if you're hurt — your health insurance should cover that.

Temporary housing coverage (loss of use) provides reimbursements for additional living expenses such as food, hotel parking, laundry, and more. You'll get this type of coverage if disaster strikes and you can't stay in your apartment due to a covered loss (like fire or water damage).
What Does Renters Insurance Protect Against?
Renters insurance in Nevada protects you against theft, burglary, and vandalism. It also covers fire, lightning, explosions, and many kinds of water damage.
Goodcover renters insurance can also cover accidental damage with our SUPERGOOD package, and you'll only add a few more dollars per month to get it. So, if you trip, drop your laptop, and the screen cracks, you'll be covered.
Top Nevada Renters Resources for Tenants
We believe that knowledge empowers people to make the best decisions in life.

To that end, we've compiled the following resources for tenants in Nevada:

If you're planning to rent in Nevada but are unsure how much Goodcover can save you on your renters insurance in NV, get a renters insurance quote in a few seconds.
Or, if you have an existing renters insurance policy, email compare@goodcover.com and we'll compare your rates to ours. If you like what you see and are ready to switch, we'll cancel the old policy for you and refund anything you prepaid.
Then once you're set up with us, check out our Goodcover Auto service and compare car insurance rates from the top carriers in your area so you can maximize your savings.
---
Note: This post is meant for informational purposes, insurance regulation and coverage specifics vary by location and person. Check your policy for exact coverage information.

For additional questions, reach out to us – we're happy to help.